'Shorts' Premiere Turns Congress Ave. into a Carnival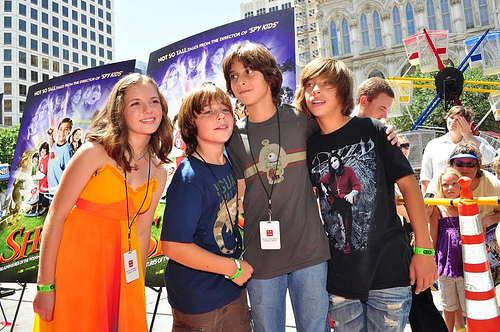 Red carpet events continue in Austin this week, and I cut my Cinemapocalypse experience a few hours short at 7:30 am so I could rest before another special event on Sunday afternoon.
Writer/director Robert Rodriguez, producer Elizabeth Avellán, and cast members Jimmy Bennett, Trevor Gagnon, Devon Gearhart, Jake Short, Jolie Vanier and Rebel Rodriguez walked the red carpet this past weekend at the Paramount Theatre for a special screening of their new movie Shorts. The event was a benefit for local organization Thoughtful House Center for Children, and included a free post-screening carnival including rides, sno-cones, cotton candy and more. Danny Trejo, whom I photographed at Cinemapocalypse, made an appearance as well as Richard Linklater. Rebel and Racer Rodriguez worked the red carpet like pros, answering questions and posing for photos.
When I'm working the red carpet I will rarely ask folks the same question, but due to Robert Rodriguez and Elizabeth Avellán's strong involvement in the Texas Motion Picture Alliance and film incentives I wanted to hear from both of them on the subject. Here's how they answered the following question:
With recent legislation passing for film incentives, what do you feel is the next step in building a strong film industry in Texas?
Robert Rodriguez: The incentive is the first big step, because then people know that they can just bring their films there. I know we have the best crews, very experienced crews because our crews will go a lot to other states when work would go to other states before we had our incentives. People love Austin, they know actors love Austin and Texas in general. People are going to bring more movies here just for the incentive alone, and there are crews getting to stay here.
Elizabeth Avellán:I think production is going to come back non-stop, if we continue not only helping maintain the incentives, but improve them. Every time that the legislature comes around that we should be able to get it more solidified, that is the funding more solidified. In Texas you can make them for a lot less, because if you work with local crews it's a really wonderful thing. Texas has the most wonderful group of people working all over Texas. We bring them from Dallas, Houston, San Antonio – it's a really wonderful thing.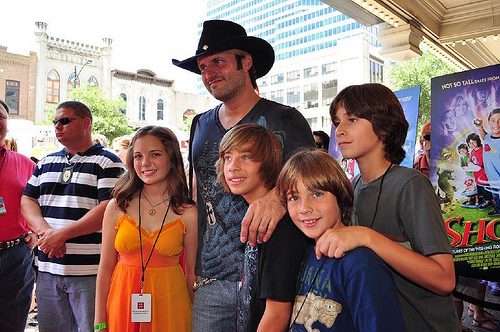 On a lighter note, I enjoyed speaking with many of the child actors from the movie, including Jimmy Bennett and both Racer and Rebel Rodriguez. The overall response was that they all had fun making the movie and working with Robert -- "he's like a big kid himself" -- and their favorite way to escape the heat is frequent trips to Schlitterbahn Waterpark.
It also bears mentioning that any press who attended the screening were not comped, but instead Warner Bros. Pictures donated the equivalent of our tickets to the Center as well. Congress Avenue was closed in front of the Paramount for a carnival featuring a climbing wall, moon jump, ball crawl, face painting, and jugglers. Thankfully they'd also thought to have a misting fan set up, so families could stay cool if the ice cream and sno-cones wasn't enough to combat the Texas heat. Everyone seemed to enjoy themselves, and Danny Trejo was graciously signing autographs and posing for pictures with his young fans.
Check back later this week for my review of Shorts.
[Photo Credit: Top photo (L-R) Jolie Vanier, Rebel Rodriguez, Racer Rodriguez, Jimmy Bennett, by Jeff J. Newman, courtesy of Warner Bros. Pictures via Globe Photos; second photo: (L-R) Jolie Vanier, Robert Rodriguez, Jimmy Bennett, Rebel Rodriguez, Racer Rodriguez, by Jeff J. Newman, courtesy of Warner Bros. Pictures via Globe Photos]