Group Review: Funny People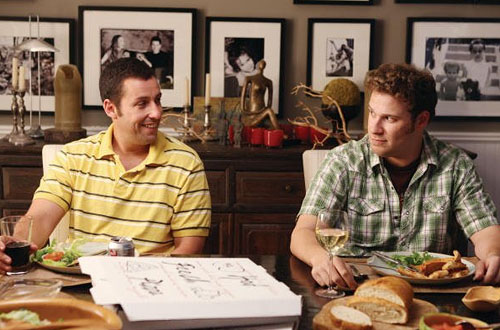 This week, Debbie and Jette and Jenn all watched Judd Apatow's latest film, Funny People. The comedy stars Seth Rogen as Ira Wright, an up-and-coming comedian who lucks into a job assisting the rich and famous comic/movie star George Simmons (Adam Sandler). George is fighting some health problems, which leads him to reminisce about his long-lost love Laura (Leslie Mann). The cast includes Jonah Hill, Jason Schwartzmann, Eric Bana, and a number of other comedians, as well as other members of the Apatow family.
Austin has a very small connection in this film: Jonah Hill is wearing an Alamo Drafthouse t-shirt -- one of the Badass Cinema shirts -- during one scene in the film. No, Seth Rogen does not appear next to the Alamo South lobby's hot dog in this movie, but we live in eternal hope.
Let's start with Jette this time:
Funny People is supposed to be writer/director Apatow's Big Important Movie. And perhaps it is, but I didn't find it all that involving ... or all that funny. For one thing, the film would have been vastly improved by having about a half-hour trimmed. It would also have helped to have at least one character that I liked or empathized enough with to care about what was going on with them.
The movie is structured like a traditional romantic comedy, but the partners are Rogen and Sandler's characters -- their potential love interests take a back seat to their rocky friendship. It reminded somewhat of Zack and Miri Make a Porno in that way; many people have found a metaphor in the Kevin Smith movie for Smith's friendship/working relationship with Scott Mosier. So perhaps this is a disguised tale of Apatow and Sandler, or Apatow and someone else -- I don't know the director's life well enough to speculate. The long third-act sequence in San Francisco throws off the rhythm of this structure somewhat, and it was during that sequence that I really started checking my watch.
Funny People has some marvelous one-liners and a few great scenes, but I grew tired of it awfully quickly. I think my favorite character may have been Jason Schwartzmann's -- he's supposed to be a jerk, but at least there's no pretention that he should be at all likable, and he's obviously having fun with his mild obnoxiousness. And at least I liked Sandler in this movie better than in just about anything else that isn't Punch-Drunk Love, or, okay, maybe The Wedding Singer.
Now Debbie:
I wish I could say that overall I liked Funny People, because I do believe there is a good movie within the 2 1/2 hours of film. I enjoyed watching the dysfunctional relationship between George Simmons (Adam Sandler) and Ira Wright (Seth Rogen) develop, and despite the countless number of F-bombs laughed at the raunchy humor. Sandler once again shows that he can show a serious side in a role, exposing the vulnerability and self-loathing of a comedian who has become a caricature of his public persona.
However, I felt that the third act with Laura (Leslie Mann) and Clarke (Eric Bana) was too drawn out, and detracted from what could have been a well-balanced film. Fans of Sandler's comedic films might be a bit disappointed and forgiving enough to endure Funny People, but may still find themselves checking the time (like many in the screening I attended) before the two-hour mark. Personally, I wish I could have some of that time in my life back. I would have no problem spending that time instead watching Billy Madison or 50 First Dates again.
And here's Jenn:
One would think that a movie about comedians would be funny, but one would be wrong. Judd Apatow's latest comedy, Funny People is really two films that are a lot like a bickering mismatched couple; it's just not a pretty thing to watch. That's not to say there's nothing redeemable in it; if it was split into two films, one or both would actually be good. But together, this 146 film is about 46 minutes too long, and as meandering as a two-and-a-half-hour film suggests. No less than five people after this week's screening commented about the length (although they all said 45, not 46 minutes).
Wannabe Ira (Seth Rogen) stumbles into a working relationship with superstar comedian George (Adam Sandler) shortly after George gets bad news from his doctor. Ira is trying to make it as a comedian, and dealing with the success of his roommates (Jason Schwartzman, Jonah Hill) while trying to learn from George. George is in passive/aggressive denial, and reminiscing about his past, particularly the girl who got away (Laura, played by Leslie Mann). who's now married (to Clarke, played by Eric Bana).
There's simply too much going on, and not enough character time, which is often wasted on cameos of comedians playing themselves. It's really the Sandler and Rogen show, with a heavy dose of Leslie Mann in the third act, with Bana barely getting any screen time, which is a shame. American audiences may be surprised to know that Eric Bana got his start as a comedian. His scenes weren't all that funny, despite his best efforts with the limited material. Ironically, it made me want to watch Chopper again.
It's not that's it's humorless, it has some very funny moments, particularly the doctor moments with Torsten Voges, who plays it so straight it seems he's a real doctor being punked. Unfortunately the near constant genitalia-centric humor was so relentless, one has to wonder if Apatow and crew get kickbacks for every time someone in the film says penis, balls, or variations thereof. That being said, Apatow crossed an invisible barrier to female genitalia humor, and surprisingly enough, it was actually funny, including one very memorable moment of zingers between Rogen and the under-used, under-appreciated Aubrey Plaza.
Mann, as Laura, at least got a chance to develop into a fully realized character in a realistic story arc. Plaza, as Rogen's love interest, did the best she could with what amounted to a walk-on part.
Sandler is the most frustrating, because he can play straight, as seen in Spanglish and Reign Over Me, but he was often as
lazy in his comedy as the comedian he portrays, right down to the movie clips they show of George. The clips, along with the set decoration overflowing with posters and pictures of famous comedians, were distracting in an already unfocused film.