SXSW Review: Tab Hunter Confidential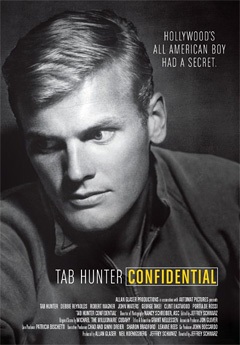 At the peak of his popularity in the 1950s and 1960s, Hollywood star Tab Hunter acted the part of the clean-cut California boy next door. But nearly 10 years ago, Hunter came out as gay. The documentary Tab Hunter Confidential, which premiered at SXSW, delves into those carefully closeted years and contrasts them with his current life, with the former teen idol himself guiding us through the narrative in a charming and heartfelt way.
The movie is generally linear in its approach, a traditionally structured biography. But its subject's life is continually fascinating. For example, the sequence describing Hunter's childhood is compactly edited and doesn't feel like yet another celebrity childhood stereotype. While the film focuses on Hunter's popularity peak in the late 1950s and early 1960s, Hunter's professional and personal story continues through the present day, showing his movie-career revival in the 1980s (Polyester, Grease 2, Lust in the Dust) and his longtime relationship with Allan Glaser, one of the documentary's producers.
Perhaps if you've read Hunter's autobiography of the same name, few surprises are in store, but the film clips and interviews would still be engaging, illustrating the story of a man who's led a very complex life. Besides acting and singing, Hunter has been a competitive ice skater and throughout his life, has trained/rode horses professionally.
Filmmaker Jeffrey Schwarz (I Am Divine, Vito) has a deft touch with personal documentaries. The interviews with Hunter himself feel intimate without being intrusive. Other interviews include John Waters, Connie Stevens, George Takei, Debbie Reynolds, Clint Eastwood and ex-actress Rev. Mother Delores Hart. While the list sounds like a parade of celebrity, the interviews add insight and interest.
In addition, the archival film and TV footage in Tab Hunter Confidential is full of treasures. Many people remember Hunter at his peak as a teenage heartthrob -- can you name more than one of the movies he appeared in at that time? But he performed on TV in Playhouse 90 dramas directed by John Frankenheimer and Arthur Penn, back when such a thing was considered prestigious, highbrow fare. It's unfortunate these performances seem to be forgotten by contemporary audiences, for the most part.
Tab Hunter Confidential is a lively and dynamic biographical film -- a combination of good storytelling and an excellent story to tell. As of this screening, the film has no theatrical distributor yet and will be touring the film-festival circuit. It would be an ideal fit for any pay-cable outlet that features prestigious documentaries (pssst, HBO or CNN).