SXSW Review: A Poem Is a Naked Person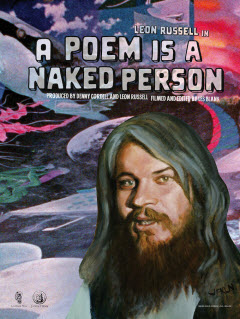 Some movies feel like symphonies or rock concerts. Some feel like comic books (or graphic novels, if you prefer). Some feel like forgotten Faulkner short stories (David Gordon Green). And yes, some rare movies feel like poems, which is not the same as movies with poetic scenes. One excellent example of movie-as-poem is Les Blank's 1974 documentary A Poem Is a Naked Person, which screened at SXSW this year -- one of its very few public screenings.
This is not your standard music biopic by any means. Descriptions of the film often note that it's about musician Leon Russell and the Oklahoma studio he built in 1972, to encourage friends to make music with him. And so it is, but don't expect a linear or straightforward story along those lines. A Poem Is a Naked Person is trying to capture the feeling of the times, a sense of being in the moment with the music rather than following an artificial narrative.
Scenes shift from a studio session to a guy painting vivid murals on swimming pool walls to a dance-hall concert to another studio session to a crowd watching a building being demolished. The movie is both hippy and dippy, in an entirely appropriate and delightful way. (Even the subtitle font is perfectly groovy.) You get to enjoy not only great musicians playing together in Russell's studio, but also everything else going on around them -- a sense of context, as opposed to talking heads telling you everything.
"Documentary" feels like both the worst word to describe this movie, as it sets expectations for a particular style of film ... and exactly the right word, because Blank has captured the time and the mood and the music and the people so perfectly. The Voice of God narrative structure would be entirely out of place here.
Ultimately, A Poem Is a Naked Person is about art everywhere you look, and what that looked like in the early 1970s -- not confined solely to Russell's musical projects. Even if you're not a huge fan of Leon Russell or the other musicians in the film, including Willie Nelson, George Jones, Ambrose Campbell, Mary Egan and Eric Andersen, you can sit back and let the music and painting and parachuting and everything else just wash over you. But you have to connect the dots yourself ... set your expectations appropriately.
A Poem Is a Naked Person has recently been remastered so it can finally be shared with audiences everywhere. On the Paramount's big screen, it looked and sounded absolutely gorgeous. Harrold Blank (Les Blank's son) was at the SXSW screenings and said the film will have a limited theatrical release this summer (including Austin) before a Janus/Criterion home-video release.
Texas connections: Austin musician Willie Nelson appears in the movie, but if you're used to seeing the older Nelson, you may not recognize him at first. But once he starts singing, you'll know, and then you will be amazed that he was ever that young. If you're quick you might also catch a glimpse of Armadillo World Headquarters.