Ready, Set, Fund: Preserving Austin's History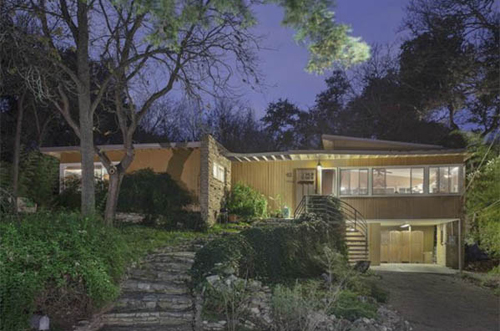 "Ready, Set, Fund" is a column about crowdfunding and related fundraising endeavors for Austin and Texas independent film projects.
It's hard to believe that it has been over 3.5 years since the first "Ready, Set, Fund" column appeared here on Slackerwood. This recurring column has served as an incredible vehicle to immerse our writers in local film productions. From set visits to personal interviews with cast and crew, we are all grateful for getting a behind-the-scenes perspective and following film projects from "cradle to grave" over these last few years. Even when a campaign falls short of its funding goals, many filmmakers find other creative avenues to accomplish their film production goals.
One such creative talent is Austinite and local performer Troy Dillinger, who has been championing the preservation of historical homes in the hills of west Austin and around Barton Springs and Town Lake. Dillinger has been quite active at Austin City Council meetings as well as on social media to alert Austinites of the pending destruction of several mid-century modern custom homes built by Arthur Dallas "A.D." Stenger throughout his 55-year career. Each home was custom designed for the lot they were built on, often built with repurposed stone from each lot.
Dillinger plans to document the work of Stenger in AD Stenger: MidCentury Maverick, which is currently funding on Kickstarter through Monday, June 1. The crowdfunding project notes that Stenger was heavily influenced by "Frank Lloyd Wright's vision of stylish, yet affordable 'Usonian' architecture for middle-class families." He was kicked out of The University of Texas at Austin School of Architecture and faced obstacles including the failure to secure financial backing and difficulty with interpretations of city building codes. His perseverance paid off with 100 homes built, and Dillinger will persevere as well and document many of the remaining "one of a kind" homes in his film.
Local producers Kelly Williams and Jonathan Duffy (Pit Stop, Hellion) are part of the production team behind Nancy, a psychological drama directed by Christine Choe, a filmmaker based in New York. This project is funding on Kickstarter through June 23. Cho's film centers around a female anti-hero who lies to the point of losing her own identity.
Former Fantastic Fest programmer Kier-la Janisse is crowdfunding on Indiegogo through June 15 for a film-related project with her latest Spectacular Optical publication, Satanic Panic. Janisse's publishing company focuses on the genre of "psychotronic cinema and culture," and this anthology of essays and interviews reveals the cultural hysteria over the supposed permutation of Satanism through music, literature, film and television in the 1980s. Janisse plans on releasing the book at this year's Fantasia International Film Festival at the end of July in Montreal.
Other local film-related projects currently funding:
The Birdie Machine -- This campaign is to fund a trailer for a comedy described as "a guy who has to fix the result of a golf tournament or face having his nuts fed to a herd of pigs. To succeed he has to battle a dwarf with anger issues, fend off a voracious ex-pornstar, fight an incompetent environmentalist and keep a psychotic gangster at bay. On top of all that, his friend and tour legend needs to be persuaded to take a dive." (Indiegogo, ends June 22)
Blood Moon Angel -- Writer and director Vanessa Pla moved to Austin in the spring of 2014 to work for Richard Linklater's Detour Films. This film was captured "guerilla style" in production, and Pla is seeking funds to complete post-production work. It appears to be a snapshot of love and identity as a twentysomething in Austin. (Indiegogo, ends June 16)
Ella and the Sun -- Writer-director Dana Cowden's narrative short film centers around a little girl whose best friends are the sun and wind, and her mother who struggles to understand and help her daughter. (Indiegogo, ends June 15)
Fat: The Play: The Film -- The "Fat Queer Femmes Creating and Revolting" group seeks to bring its stories to the stage and screen through this narrative film. (Indiegogo, ends June 12)
Middle Witch -- This coming-of-age mythical epic, which employs practical trickery and puppetry for special effects, serves as filmmaker Amanda Blue Gotera's senior thesis for her MFA at UT Austin. (Kickstarter, ends May 30)
Motherland -- In this short film, a mother and son meet for one last time before she leaves for Bangkok, Thailand. It's Dew Napattaloong's undergraduate thesis film at UT Austin. (Indiegogo, ends June 10)
Promise Me -- Actor and producer Kevin Machate wrote and directed this dramatic story of an dying woman who struggles to help her son avoid the same mistakes that she experienced throughout her life. (Kickstarter, ends May 31)
What's the Point -- UT Austin filmmaker Christian Decuire teams up with local rap artist Jae Jax Da Menace on a project that will use visual storytelling to blur the lines between villain and hero. (Indiegogo, ends June 5)
Willie -- "In an age where everyone seems to blend in, Willie stands out" in this short film by UT Austin student Jesse Acosta about a teen who's a perpetual optimist. (Indiegogo, ends on May 31)