Review: Mad Max: Fury Road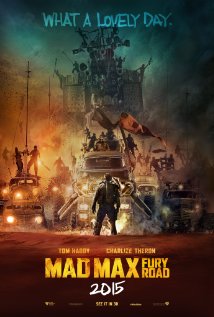 The bar is set this week for top action flick of the summer, and Mad Max: Fury Road is the one to beat. It has been an improbable 30 years since the last entry in the Mad Max series, Mad Max Beyond Thunderdome, but director George Miller returns with a joyride so big, so incredibly over-the-top, it's got the potential to redefine what we expect in an action film.
Miller immerses us in the post-apocalyptic world he established through the previous films, which we can now see has never stopped devolving and increasing in madness, chaos and destruction as the last vestiges of life continue to die off. The title "Mad Max" in fact is something of a misnomer, as Max Rockatansky, now played by Tom Hardy, is clearly the most sane person left in what has become the outer circle of Hell.
The world in Mad Max: Fury Road is the phenomenally stunning product of concept and art direction. The fully realized society is based on a religion devoted to its leader, who presides over warriors who feed on milk harvested from human slaves and who wish only to die in his service. Great machines powered by human feet lift vehicles from the bowels of his stronghold -- vehicles that might drive on stage at the heaviest of heavy-metal concerts, smoking frankencars pieced together, covered in skulls, with men chained to them spitting gasoline into their intakes to increase the RPMs.
Character names are just as ostentatious: Toast the Knowing, Rictus Erectus, The People Eater and The Splendid Angharad ... to name a few. Every detail of this fantasy is magnified, hyperbolized to an explosive extent. Michael Bay is no longer the director I refer to as the "best at blowing shit up."
We don't need another hero, but we get one in the bad-ass form of Imperator Furiosa (Charlize Theron). This is her story, and on Fury Road, Max is just along for the ride. There is no attempt to be subtle about the strong feminist message in the film, and that's A-OK. I would have been every bit as happy if this film had left out the Max character, and I'd love to see a set of movies in this world with Theron taking the lead.
In fact, I felt the only weakness in Mad Max: Fury Road is the casting of Hardy as Max, originally played by Mel Gibson. While Hardy's stagecraft is beyond reproach, there is something about him that just isn't right for this role. Compared to Gibson, Hardy just doesn't have the same physical presence. He seems smaller, less physically imposing and entirely less threatening. With the time that has passed on and off-screen, Gibson could have slipped right back into the role, so his absence is distinctly felt. The situation is exacerbated by the way Max is written. He only does two things (besides shooting) that affect the plot, and those could have easily been assigned to other characters,
Mad Max: Fury Road is the most exciting experience I've had in a theater in years. There are no limits to the imagination that created it, and no brakes are applied to the action.