HCFF Review: Mount Lawrence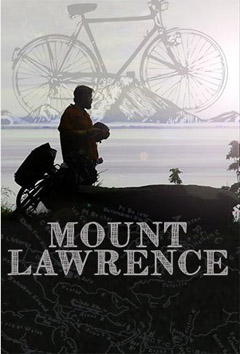 Imagine cycling more than 6,000 miles cross-country, mending dozens of popped tires, camping out in thunderstorms, coping with unexpected injuries ... and documenting it with video cameras. Filmmaker Chandler Wild takes on the challenge in the documentary Mount Lawrence, and includes the audience in his experience in an engaging, almost intimate way. The film recently won the Best Documentary award at the Hill Country Film Festival.
Wild, a former Texan living in Brooklyn, decides to embark on this adventure to honor the memory of his dad, who loved taking his family on adventurous camping and other outdoor trips ... and eventually committed suicide. He plans to cycle from New York City through California and up to Alaska, and he has to do it within a fairly limited timeframe so the weather will be okay for travelling by the time he gets to Canada. His goal is to reach Homer, Alaska and climb an as-yet-unnamed mountain that he'll hopefully be able to officially name after his father (thus the title).
From Brooklyn, Wild starts the bicycle trek with his friend Connor Lynch, who has never tried cycling of any real distance, or outdoor living, or any of this kind of thing. While it's a rough start for Lynch, having him accompany Wild is a great entryway for the audience to empathize with the situation. Eventually they hit a rhythm as they travel west and deal with all kinds of unpredictable difficulties, as well as some truly lovely moments on the road and in places like Detroit and Yellowstone Park.
Mount Lawrence follows the obvious structure of the lengthy road trip, but Wild adds more of a personal note by framing his voiceover narration as a letter to his dad. It sounds a little stiff and forced at first, but as the documentary really gets rolling and we get to know him better, his inflections sound more natural. Music from The Bones of J.R. Bones complements the odyssey very well.
For a movie shot with GoPro cameras mounted crazily on bikes and other rough-on-the-road shooting, Mount Lawrence looks especially good on a big screen, but will carry over well to home video. The opening credits sequence, designed to look like a family vacation slideshow, is a real visual highlight. At this time, the film is touring the film-fest circuit and no distribution deals or plans have been announced ... but it's hard to imagine a documentary about an adventure of such magnitude won't make it at least to online streaming outlets soon.
Texas connections: Filmmaker Chandler Wild grew up in the Houston, Texas area.