Noir City Austin 2015: Saturday Dispatch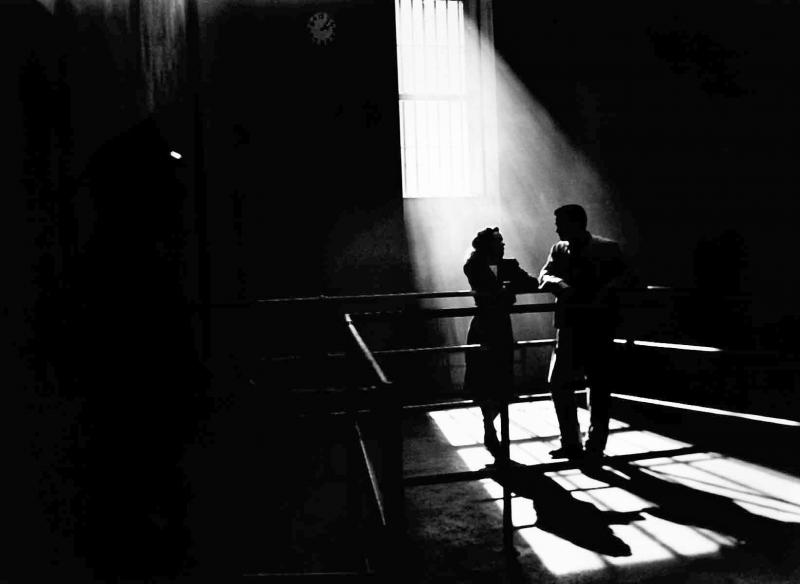 When the second day of Noir City Austin came around, I was more than excited to step into the world of Cornell Woolrich again. The first night had given me a taste with Street of Chance (1942), but now it was time to dive far into the mind of one of the great innovators of the film noir genre.
Before kicking things off, Film Noir Foundation President and festival host Eddie Muller once again thanked the audience for attending and stressed that although they were there for fun, their presence signified great steps toward restoring these rare films and and keeping them alive.
"Proceeds from these festivals go straight to film rescue and restoration," he said. "It's expensive to restore these films and we thank you for helping us preserve them as films."
With that said, the Woolrich journey began.
The first screening of the day was the amazing gem Phantom Lady (1944). An engineer (Alan Curtis) convinces a young woman (Fay Helm) to go to a Broadway show with him, after which she promptly leaves. When he arrives home, the police inform him that his wife has just been murdered. His alibi is thrown into serious jeopardy when no one from that night can ever remember seeing him with the mysterious woman.
Simply put, this is the type of lost treasure I was hoping to discover during this year's Noir City Austin. It's got everything any noir fan could have possibly asked for: a murder, a conspiracy, a madman, a romance and one of the genre's most ambitious female heroines. The latter comes as no surprise since Phantom Lady was produced by the great Joan Harrison. One of the few female producers in Hollywood at the time, Harrison served as Alfred Hitchcock's protege, eventually striking out on her own and producing the master's long-running TV series. I'm certain Hitch must've been proud.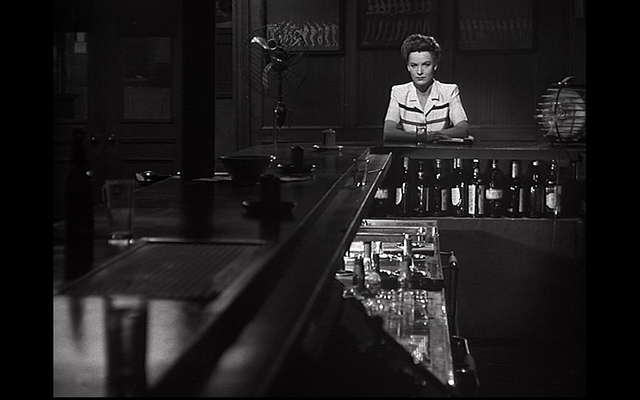 I was more surprised with Black Angel (1946) than I was with any other movie I'd seen at Noir City so far. The plot is high-caliber noir. When a popular singer is murdered in her Los Angeles penthouse, an innocent man is accused of the crime, leading to his wife (June Vincent) and the victim's drunk ex-husband (Dan Duryea) posing as a torch singer and pianist to infiltrate the nightclub owned by their main suspect (Peter Lorre).
It wasn't necessarily the plot twists and turns that threw me for a loop, but rather the stark and unwavering comment on alcoholism. In probably the finest role of his career, Duryea plays a man seriously struggling to cope with the disease. The "sauce" is always been part of the film noir world, yet Black Angel is one of the first films to present it as a force almost as deadly as a femme fatale. It's fun to slip into the darkness of the noir world mainly because it represents a safe, almost glamorous darkness that bears little relation to the one in our current society. However, now and again comes a film like Black Angel that manages to inject true-life commentary in a clever and brave fashion.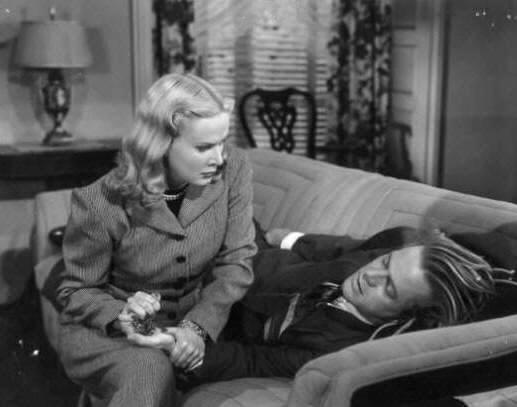 It seems almost unfair of me to write about this movie since just a few days before Noir City kicked off, I found a copy of the source novel by Woolrich at a local bookstore. It's the first Woolrich novel I've read and have been wowed with the way he can create a sense of place and get into the psyche of his characters. Muller said that Woolrich never really cared what happened to his stories after he sold them to Hollywood, and Deadline at Dawn (1946) proves it.
Maybe if I hadn't read the novel before seeing the film, I would have liked this adaptation a little more. Thinking about it later, the movie stands as a perfect whodunnit with a cynical dance-hall girl (Susan Hayward) and a wide-eyed young sailor (Paul Lukas) at the center of an unsolved murder. A variety of suspects keep popping up around them on a hot, summer night in New York City. The film thankfully doesn't follow many of the noir tropes, especially in Clifford Odets' wonderfully written screenplay, and Hayward gives a perfect noir performance as she glides between toughness and romance. It may be an adaptation in name only, but this film definitely has legs of its own.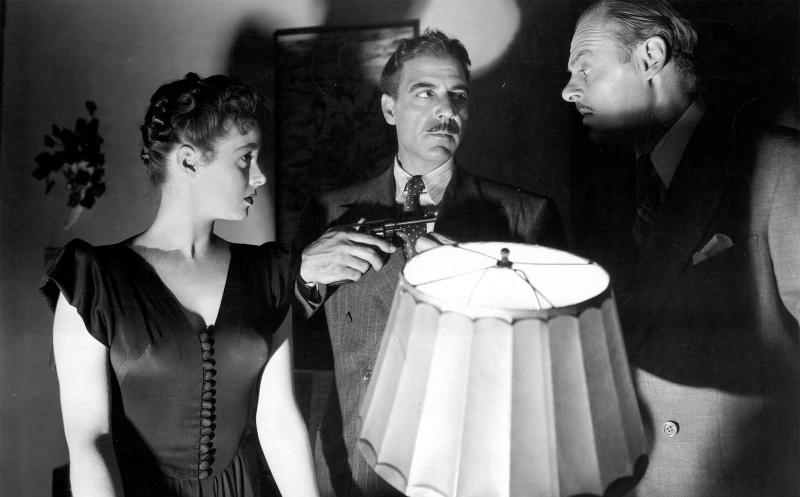 Before the screening of The Guilty (1947) began, Muller commented on how the film was a perfect example of a B-movie. He didn't mean that The Guilty lacked any sort of artistic merit, but rather that it was fully committed to its genre. Starring Bonita Granville, The Guilty focused on two roommates/ex-army buddies (Don Castle and Wally Cassell) who fall for a pair of twin sisters, both played by Granville. When one of the more angelic of the two sisters goes missing, the search is on to find out what truly happened to her.
Because of a limited budget, The Guilty lacks that somewhat grand feel of other noirs that are allowed to wander throughout city landscapes. In fact, there are only a handful of sets within the film due to its B-movie status. As a result, the film has a great self-contained factor that allows for more quality time with the characters and the mechanics of the plot. At times, The Guilty feels like it came from one of the old-style anthology series. Those were usually made on the cheap, with the same crew and a rotating stable full of actors. They may have been hurriedly constructed, but much like The Guilty, they always delivered the goods.