HCFF Review: The Origins of Wit and Humor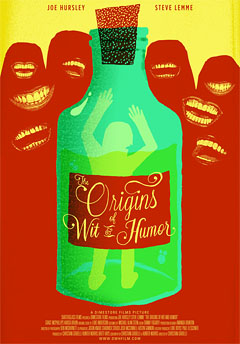 Charming indie film The Origins of Wit and Humor, which screened earlier this month at the Hill Country Film Festival, appears at first to be a romantic comedy, but ultimately leans heavily on the comedy, as hinted in the title. In fact, you could argue that this movie is a romantic comedy in which humor portrays the femme fatale the protagonist pursues -- the storyline chronicles the repercussions of his entanglements with this demanding love interest.
Les (Joe Hursley) is a comedy writer who's completely devastated when seemingly out of nowhere, his longtime girlfriend moves out. He can't write, he can't function, he has no idea how to approach women, despite encouragement from his best friend Pops (Steve Lemme). On a whim, Les sends off a mail-order form from the back of an old book (with the same title as the film) and receives a "potion" that will allegedly make him irresistably funny to all women. And the big problem is that unlike "X-ray specs" and the Charles Atlas program, the potion turns out to work.
The Origins of Wit and Humor has a tendency to favor broad comedy over character and plot consistency, when given the choice, with occasional misfires. For example, the scene where Les seeks out the source of the potion he has taken is just silly and feels forced. On the other hand, a sequence that pays tribute to silent movies didn't have much tie-in to the plot but it's so funny, it hardly matters.
Hursley has a talent for hilariously appropriate facial expressions that don't cross over into shameless mugging -- he reminded me a little of Hugh Laurie back in the Bernie Wooster years. He and Lemme together make just about any situation more humorous. The female characters don't get much to do in the movie apart from Grace McPhillips as Pops' wife, who is immune to Les's charms and also pretty amusing with her own reaction shots. She also gets a nice moment in a diner with Les -- she's probably the smartest character in the film.
The Origins of Wit and Humor starts to feel a little sluggish near the end, as though writer-director Christian Gridelli and co-writer Hunter Norris realized they did actually have a story to tell and needed to wrap it up without unnecessary hilarity. Overall, this is an amusing movie -- a little uneven but with some hilarious sequences that make the film a worthwhile watch. Unfortunately, at this time it does not yet appear to have distribution.