Review: Welcome To Me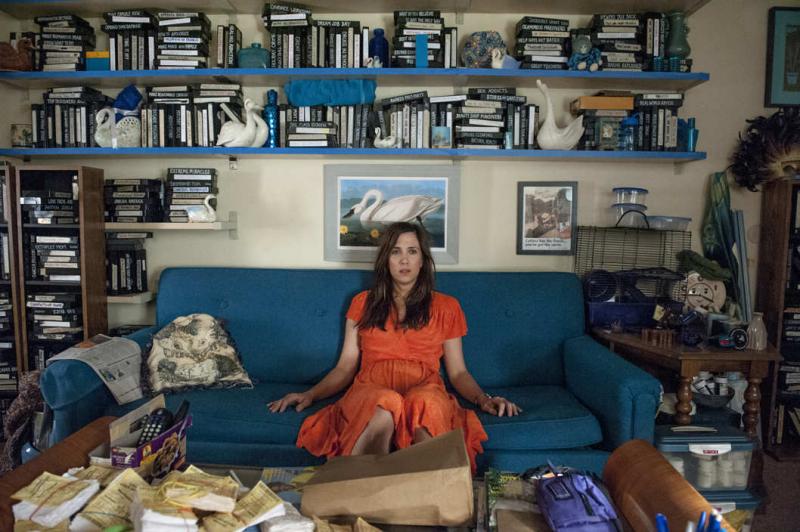 In her seven seasons as a cast member on Saturday Night Live, Kristen Wiig became known for an array of bizarre recurring characters and for taking on difficult and highly memorable impressions (Bjork, Kathie Lee Gifford and Suze Orman spring immediately to mind). She's done her fair share of comedic film work, but in the last few years has really found her niche in indie dramadies. With The Skeleton Twins and Hateship Loveship under her belt, Wiig now appears in her strongest performance to date in Welcome to Me as Alice Klieg, a woman with borderline personality disorder.
The concept works because it is too absurd to be true. Essentially, it begins with the fact that Alice has a complicated relationship with television. It has comforted, cared and educated her over the years. Despite her mental issues, she's stopped taking her prescribed medications and relies on piles of VHS tapes to calm her nerves. She leaves the television on in her apartment at all times, telling a visitor to her home that it hasn't been turned off in 11 years. Before she can go out into the world, Alice will sit down and pop in an old Oprah episode into the VCR, reciting every line of dialogue. To her, these Oprah episodes have been a better guide for living her life than the time spent with her therapist (Tim Robbins). Spontaneity is not Alice's specialty, often expressing her feelings in "prepared statements" handwritten in advance to spare her from getting too emotional in the heat of the moment.
One night, Alice turns on the California Lottery and matches the numbers to her recently purchased ticket to discover that she has won a massive $86 million dollar jackpot. Without the checks and balances of proper care for her illness, her newfound wealth enables her to invest in the lifelong dream of having her own talk show. She teams up with New Vibrant Studios, home to a struggling local home-shopping network owned by brothers Rich (James Marsden) and Gabe (Wes Bentley) and offers to pay upfront to produce her show, which quickly goes from a weekly program (entitled Welcome To Me, with increasingly more complex opening title sequences as the show goes on) to a daily one.
Director Shira Piven delivers a promising debut feature, although one that rides a fine line between exaggerating this bizarre "what if" scenario and exploiting mental illness for comedic effect. Wiig's brilliant performance kept my fears about this concern at bay, but it's a potential trigger for some viewers. I found it endearing, if not a little sad, that Alice is compelled to use her show to work through incidents in her life that would be long forgotten by most people. She constructs elaborate sets and casts actors to reenact stories like "Someone Has Been Tampering With My Makeup Bag" as segments for her show. It's as though she recognizes that Oprah was able to help people through some of the most difficult situations in their lives and she wants to use that lens to give herself strength, by essentially giving herself a "do-over" for these moments in life that scarred her.
It's not all fun and games -- Alice's relationships with family and friends are often rocky and without her medication, she also becomes sexually compulsive. By taking any hint of financial difficulty out of the picture, the storyline allows for Alice to explore her deepest desires and regrets, putting them on display for the world to see with the help of the technology that has guided her entire life. Her winnings also set Alice up for exploitation because she's just focused on getting exactly what she wants.
Screenwriter Eliot Laurence (who used to write on Logo's The Big Gay Sketch Show) uses this exaggerated premise to examine our nation's own twisted relationship with reality TV. The audience for Alice's show doesn't seem to be tuning in to watch because they think that she can truly help solve their problems like Oprah, they're watching for the trainwreck aspect. The value in turning on the television is based solely on "what will she do today?" On the business side, Rich doesn't worry about how damaging her creative ideas could be to her well-being, he's only concerned with how the money earned to produce the show can keep his network afloat.
Welcome To Me features a stellar supporting cast that also includes Linda Cardellini (Freaks and Geeks), Jennifer Jason Leigh and Joan Cusack. It's a shame that the distributor of the film doesn't seem to have any confidence in it or is spooked by the film's tone and feels it can't find an audience. The movie has opened in very limited release and is also hitting cable and digital VOD today. With a home-video release date already scheduled for next month, it's apparent that the subject matter has made it a tough sell. It's an unfortunate scenario because Wiig's performance is absolutely fearless and deserves more recognition than it is likely to receive.
Welcome To Me is screening now with limited showtimes at the Alamo Drafthouse South Lamar and can also be rented nationwide on VOD.