Box-Office Alternatives: Fading Gigolo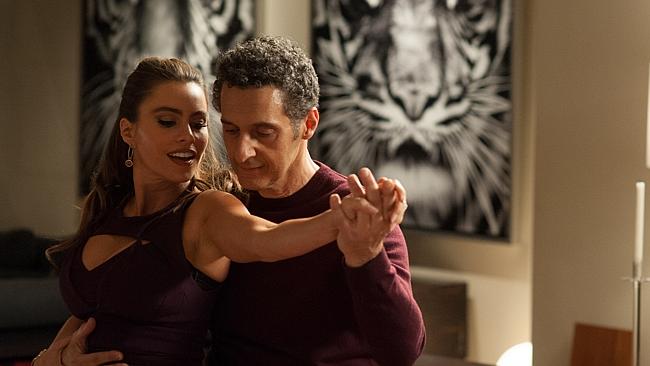 Sofia Vergara has made a name for herself playing ditzy and adorable characters who also happen to be both strong and passionate. Yet for me, it's always been the same character. Audiences love Vergara's animated, over-the-top approach to comedy as evidenced by her acclaimed work on TV and in the performances she's given for directors such as Garry Marshall and Robert Rodriguez. This week, the actress gets top billing alongside Reese Witherspoon in the buddy comedy Hot Pursuit (2015). Vergara and Witherspoon hope for buddy-comedy gold playing a federal witness and the officer protecting her until trial, respectively.
The film is a continuation of that brand of comedy which Vergara has so skillfully honed, yet seldom managed to escape. Her work in Chef (2014) was promising, even if the role itself was limited. However, her performance in the movie Fading Gigolo (2013) suggests the actress has more to offer than just the same lovable dizzying persona we've seen before.
Fading Gigolo is the story of a florist named Fioravante (John Turturro, who also wrote and directed), who close friend Murray (Woody Allen) recommends as a third party for a menage-a-trois between dermatologist Dr. Parker (Sharon Stone) and her best friend Selima (Vergara). After realizing he can make a living at the world's oldest profession, Fioravante's perspective begins to change when he connects with a solemn Jewish widow (Vanessa Paradis).
There is some definite comedy to be had at the somewhat outrageous notion that someone who looks like Turturro would be an in-demand male escort or that women who look like Stone and Vergara could find no other candidate to join them. And yet at the same time, you can't help but appreciate the fact that these women are wanting to feel passion with a real person instead of a chiseled cardboard figure so badly, they are willing to pay for it.
By that token, Fading Gigolo offers a look at desire not all that popular yet full of authenticity. It's a desire that's raw and true and an acknowledgement that anyone has the potential and the right to be desired.
The film takes an altogether different shift when Avigal (Paradis) meets Fioravante for a massage session. A widow with four children, the contained Avigal lives a quiet, ordered life and visits Fioravante out of skepticism, yet curiosity. When Fioravante begins touching her shoulders, she immediately begins to weep, breaking down the protective walls she has barricaded herself with since her husband's death. Its a beautiful scene and a testament to the power of connection that can be generated from the power of a simple touch.
As the two continue to meet and develop a more intimate relationship, one which has eluded both of them, Fioravante begins to wrestle with the kind of life he has found himself in.
While Allen is amusing, his presence is sometimes distracting and a subplot featuring Liev Schreiber as a Jewish neighborhood watchman is rather unnecessary. It's the actresses who really shine within Fading Gigolo. Stone can play the lustful woman in her sleep, yet here she does it with a finely tuned sense of humor. Her phone call with Allen early in the film is hilarious and Paradis is nothing but lovely in a role with sparse dialogue and pools of quiet emotion.
Yet for me, it's Vergara who remains the standout. For the first time in her career she takes on the role of someone who desires rather than someone who is desired, affording her a kind of power noticeably absent from most of her previous characters. She manages to be self-assured and in control, yet playful and probably the most sensual she's ever been on screen. Very little is known about her character's background throughout Fading Gigolo, and to be honest, it's probably for the better. Loading on the plot details would only tear apart the one-of-a-kind mystique Vergara weaves for the audience.
Turturro's films have this continuous habit of never truly breaking out, even past the confines of the indie world. Mainly this is because the director chooses to tell stories for audiences involving concepts which may seem absurd on the surface, yet manage to contain an undeniable truth and beauty within them. As a result, Fading Gigolo remains both a commercial failure and a work of art which only a select few people will ever truly see.
Where to watch Fading Gigolo is currently available for online streaming via Netflix, Amazon Instant Video and iTunes. It's also on DVD and you can rent it locally from Vulcan Video.