HCFF Review: Night Owls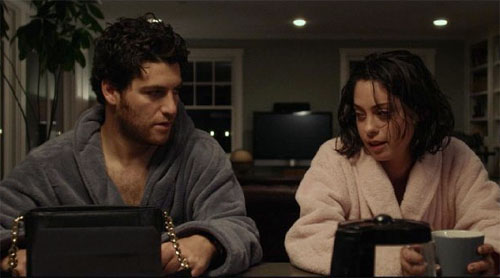 An ambitious young man finds himself tending to his boss's girlfriend -- his married boss's secret girlfriend -- who's in despair. It sounds like the middle of The Apartment, but it's actually the focus of Night Owls, a feature that premiered at SXSW and just screened at the Hill Country Film Festival, where it won the Cinema Dulce Best of Fest award. The indie owes a large debt to the 1960 Billy Wilder film without feeling like a remake or tribute.
The movie opens with Madeline (Rosa Salazar) taking Kevin (Adam Pally) home for a boozy one-night stand ... or so Kevin thinks. It's only after their brief liaison that Kevin, about to slip out of the house, realizes in stages that a) it's not her house, it belongs to his boss; b) Madeline's been involved with his boss in some way; and c) she's out cold in the bathroom after overdosing on something unknown.
Kevin's instructed by his employers to keep Madeline at the house until morning -- and by a doctor to keep her awake -- a situation that neither of the two are pleased about. But it's the interaction between these two characters that is the heart of Night Owls. The actors work beautifully together and make the situation believable and engrossing.
My one difficulty with this movie is an early scene in which Madeline tells Kevin she's drunk, but he has no qualms about going upstairs with her anyway. It took awhile to get over the distasteful feeling that he took advantage of a woman who told him she was too drunk to really know what she was doing. (She wasn't, but there's no way for him to know that.) The bit of dialogue that led to the uncomfortable moment could easily have been left out of the film. Fortunately, Pally is a skilled enough actor to overcome this scripting speed bump.
Night Owls is a lovely duet between Salazar and Pally, with an occasional boost from a small supporting cast -- most memorably, Tony Hale as the doctor who has to tend to Madeline. Director Charles Hood artfully manages to keep the film from feeling static in location and limited cast -- with two main characters and one main location, this should feel low-budget, but the work from cast and crew is first-rate and artfully disguises any limitations.