Review: Adult Beginners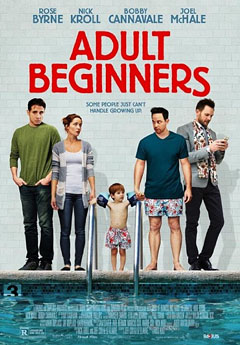 Have you seen the indie film about the young ambitious-but-party-loving professional who has to move in with relatives after a heartbreaking business failure? Or how about the one where the estranged siblings are thrown back together and try to rebuild a strong relationship, in spite of their parents? Or maybe the movie where the single person or childless couple learn how much they've missed by not having children in their lives.
Adult Beginners retreads these all-too-familiar paths, but in such a pleasant way -- and with such an amusing cast -- that it's rarely tiresome.
Jake (Nick Kroll) is one of those entrepreneurial types so familiar here in Austin (although he's wheeling and dealing in NYC) ready to launch The Next Big Thing. At the peak of his fabulous launch party, however, the venture collapses irretrievably, leaving him broke, unemployed and lacking any belief that he can do much of anything successfully. Jake moves in with his sister Justine (Rose Byrne) and her husband Danny (Bobby Cannavale), out to their parents' old home in the suburbs, and he agrees to be their son Teddy's nanny in return for room and board.
At this point the movie shifts into predictable patterns: Jake learning how to care for a child, Jake dealing with nannies, Justine and Danny coping with having a self-centered man-child in their home, Jake and Justine rebuilding their relationship. I keep mixing up plot elements in my head with The Skeleton Twins (especially because of the pool element) and even In a World (unrelated: keep an ear out for Fred Malamed's voice in this movie too).
As with both those movies, the cast adds strength and interest to the more familiar aspects of the plot. Kroll and Byrne may not look much like siblings but they have the interaction down pat -- especially during/after Skype calls to their father and his wife. Byrne's character is probably the best-written of the bunch, with some lovely moments that push the role above the standard "exasperated but supportive wife and sister" cliche. I particularly liked a scene in a coffeehouse with a student she's mentoring. Cannavale's character is far more standard but he hits every note perfectly.
The supporting cast is just plain fun. Jane Krakowski appears in a few scenes as Teddy's swim instructor, who also offers to teach the petrified-of-water Jake and Justine in her "adult beginners" class ... thus the title. Joel McHale turns up as Jake's NYC roommate.
Adult Beginners is the kind of movie you see at your friendly neighborhood arthouse theater when you want to go to the movies and can't deal with the blockbusters and the superheroes and the 3D. It's bubblegum for grownups. But it should play just as well on VOD -- it's currently available on iTunes, Vudu and Google Play (which is why in Austin, it's screening at Alamo Drafthouse South Lamar and not Arbor).
Austin connections: Former Austinites Jay and Mark Duplass are executive producers.