Movies This Week: April 24-30, 2015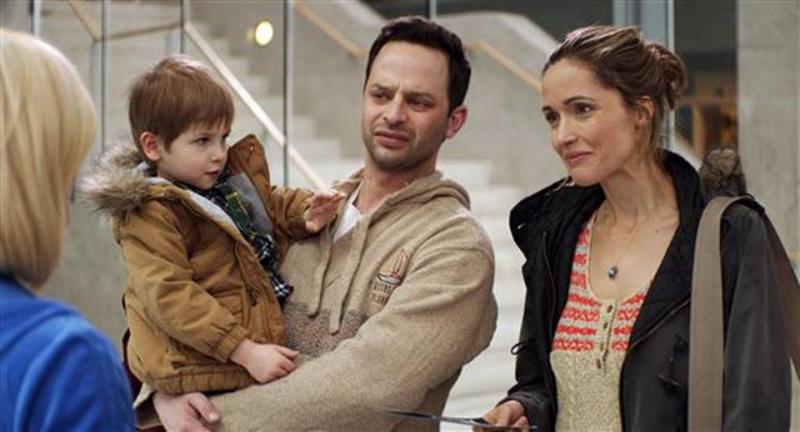 Lots of festivals are happening around the Austin/Central Texas area over the next week. The 18th annual Cine Las Americas fest got underway last night and will continue through Sunday. Featured films, in categories that include narrative and documentary feature and short films, screen at Marchesa Hall, The Mexican American Cultural Center and at Jones Auditorium on the campus of St. Edward's University. All selected titles either contain English subtitles or screen in English. The festival focuses on work from the US, Canada, Latin America, and the Iberian Peninsula.
The 8th annual Off-Centered Film Festival also kicked off last night. The partnership between Dogfish Head Craft Brewery and Alamo Drafthouse has a theme of "yacht rockin'" this year and they're raising money for The National Wildlife Federation. In addition to the yearly short film competition, they'll be showing the Marx Brothers classic Monkey Business, Joon-ho Bong's The Host and hosting a rare 35mm screening of Cabin Boy with star Chris Elliott and director Adam Resnick in attendance. Finally, the Hill Country Film Festival begins Thursday night and will continue into next weekend -- Jette will be out in Fredericksburg covering that one for us.
All of this means fewer specialty screenings over the next week, especially with Austin Film Society because the Marchesa is going to be in use for the entire weekend. AFS will host a screening of Jean Cocteau's 1932 film Blood Of A Poet in the AFS Screening Room (1901 E 51st St.) Tuesday night. On Wednesday, Richard Linklater returns to the Marchesa for a 35mm presentation of Richard Pryor's Jo Jo Dancer, Your Life Is Calling. Out of print on home video and unavailable on digital services, this is a very rare opportunity to catch the movie on the big screen. Robert Ellis Miller's The Heart Is A Lonely Hunter will be featured on Thursday night for the current Essential Cinema series dubbed "Songs Of The South."
At the Alamo Drafthouse, the Ritz is adding What We Do In The Shadows and A Girl Walks Home Alone At Night into the rotation over the next week. In addition, the Orson Welles retrospective continues with Citizen Kane on Saturday and Sunday, Macbeth (the restored "Scottish Version") on Saturday, and Confidential Report (aka Mr. Arkadin) on Monday night, all in 35mm prints. On Wednesday night, Experimental Response Cinema will be showing Der Riese (The Giant). This film from 1983 is "an 82-minute city symphony composed almost entirely of material generated by video-surveillance cameras."
Alamo South Lamar has a free 35mm Kid's Club screening of Chitty Chitty Bang Bang on Saturday, Patrick Swayze kicking ass in Road House on Sunday and Wednesday, and a handful of screenings booked for Hugh Sullivan's The Infinite Man (Saturday, Monday, and Tuesday). Lamar is also bringing in John Marshall, who starred in Roar (directed by his father Noel) for Q&As this weekend. He'll be in attendance for tonight's 7:30 pm and 10:40 pm shows, Saturday's 7:30 pm and 9:35 pm shows, and Sunday's 6:50 pm show. Alamo Village is breaking out Drive for the Shiner Soundtrack Series on Sunday and Wednesday and Alamo Lakeline serves up Mansfield Park for Afternoon Tea on Saturday. The Drafthouse will also be celebrating Texas Beer Week with a Moonrise Kingdom Hops & Grain Beer Dinner on Wednesday at Slaughter Lane.
Movies We've Seen
Adult Beginners (pictured above) - Mark and Jay Duplass were executive producers on this indie comedy, which had its US premiere at SXSW. Ross Katz makes his directorial debut here with comedian Nick Kroll starring as a man whose dreams of launching a new startup company turn into a giant nightmare when it all falls apart during the launch party. Keep an eye out for Jette's review -- she says, "Despite the familiarity of the plot and relationships, the actors remain watchable and enjoyable." The cast includes Rose Byrne (who has proven her comedy chops in films like Bridesmaids and Neighbors) and Bobby Cannavale (The Station Agent). (Alamo South Lamar for limited evening showtimes, also available on digital and cable VOD)
Also Opening In Austin
The Age Of Adaline - Lee Toland Krieger (Celeste and Jesse Forever) directs this romance starring Blake Lively (Gossip Girl) and Michiel Huisman (Game Of Thrones). Lively plays the title character, who mysteriously does not age past 29. Reviews are fairly mixed for the movie which also stars Harrison Ford and Ellen Burstyn, but Vanity Fair said it is "a refreshing alternative to this season's loud, marketing-approved, studio-built tentpoles." (wide)
Little Boy - Trumpeted by folks like Glenn Beck and Kathie Lee Gifford, the dismal Rotten Tomatoes critical consensus for this WWII-set drama calls it "the rare faith-based film that many viewers may find legitimately offensive." (wide)
Road To Juarez - Opening locally in just one theater, this is a Mexican-American thriller that the Hollywood Reporter calls a "grindingly predictable mash-up of tired B-movie tropes that seems unlikely to linger long on its journey from big screen to budget DVD store." (Galaxy Highland)
The Water Diviner - This WWI drama marks the directorial debut of Russell Crowe, who also stars. Winner of three Australian Academy Awards including Best Film, Warner Bros. has tried to add some traction to this one domestically by releasing it in a mixture of arthouse theaters and digital IMAX locations. (Alamo Lakeline, Alamo Slaughter Lane, AMC Barton Creek [standard and digital IMAX], Regal Arbor, Violet Crown Cinema)