Box-Office Alternatives: Passion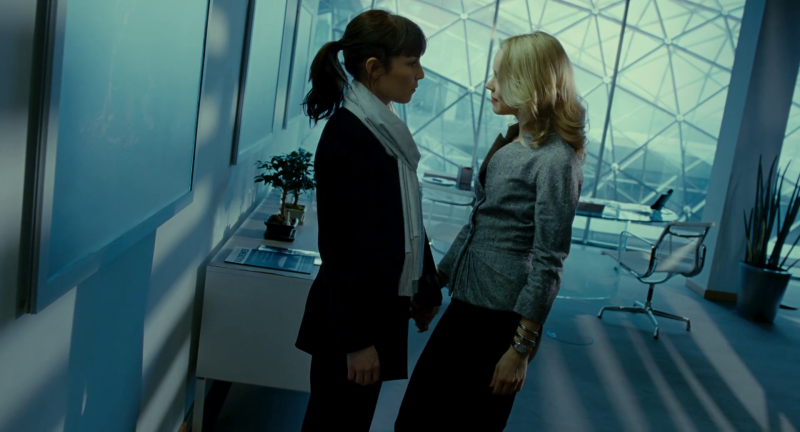 Child 44 (2015) opens Friday and features one of the darkest plots of any Spring release opening wide in recent memory. Focusing on a string of unsolved child murders in soviet Russia, the grim mystery features the always-watchable Noomi Rapace as the film's female lead.
Since hitting it big with The Girl with the Dragon Tattoo (2009), Rapace has deservedly enjoyed a steady career in a variety of complex film roles. It's never anything but a pleasure seeing an actress of Rapace's talent at work, yet I can't help but notice that in so many of her projects, including Child 44, she is usually second fiddle to her male co-stars.
One of the few exceptions is Rapace's work alongside Rachel McAdams in Brian De Palma's sexually charged thriller, Passion (2012). After advertising executive Christine (McAdams) takes credit for an idea from her associate Isabel (Rapace), a personal and professional tug of war between the two women begins, leading to mind-bending consequences.
Adapted by De Palma from a 2010 French film (Crime d'amour), Passion is one of the few De Palma films to feature two female leads as central characters. While they might not have been the focus of his films in the past, the filmmaker has always had a knack for portraying strong and confident women onscreen. Michelle Pfeiffer's ice queen in Scarface (1983), Nancy Allen's streetwise call girl in Dressed to Kill (1980) and even Melanie Griffith's ditzy socialite in The Bonfire of the Vanities (1990) each mixed strength and sexuality in a way which suggested they were not merely an object in a man's world, but rather an equal player.
De Palma continues the trend in Passion by showing two sides of the independent career woman. Both are smart individuals who have all the necessary tools to make it to the top in typically male-dominated roles. Christine is cunning and quick, while Isabel is dedicated and hardworking. Yet the former has found a way to use her sexual allure as almost a tool of intimidation in order to get what she wants, even from Isabel. It would have been incredibly easy for De Palma to load Passion with plenty of love scenes between the film's two leading ladies, yet the director wisely chose to focus on the psychological power struggle between the two of them and the realization that only one can make it to the top.
Shot in Germany, Passion has an undeniable European arthouse thriller feel to it, particularly in the film's second act, which is amplified by DePalma's trademark camera movements and energetic score. At first Passion seems like a standard, yet still interesting, 21st-century climb up the corporate ladder and the secret inner politics of that cutthroat world. When Passion crosses the halfway mark however, the film enters into full Rod Serling mode, becoming a psychological thriller with layer upon highly stylized layer.
De Palma has always had a way of constructing different realities that, though seemingly grounded in the real world, feel as if something is definitely off-center within them. Passion is perhaps his greatest venture into this territory -- the legendary director has crafted a world where the everyday appears normal yet slightly unhinged, from the film's subtle opening to its shocking conclusion.
The critical and commercial response toward Passion was heavily split with some feeling they were watching vintage De Palma, while others dismissed the film as exploitative trash. The response is hardly surprising, given that De Palma has made a career out of polarizing critics and audiences. In doing the research for this week's column, I tried to think of the nature of the erotic thriller today. Jennifer Lopez trying to hide from a neighbor boy who has the hots for her in The Boy Next Door and similar fare seem to represent the genre at the moment. However, Passion is a steadfast reminder that the erotic thriller still exists, carrying not just potent sexuality and genuine suspense.
Where to watch: Passion is currently available for online streaming via Netflix, Amazon Instant Video and iTunes. It's also on DVD and you can rent it locally from Vulcan Video.