Lone Star Cinema: Fort Bliss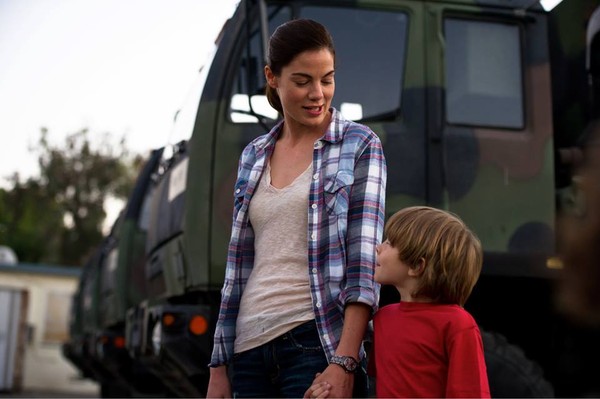 It's nonsensical that actress Michelle Monaghan isn't a bigger name in Hollywood. She is an excellent foil to Robert Downey Jr. in cult dark comedy Kiss Kiss Bang Bang, and inspires Jake Gyllenhaal in Source Code. She was even in the lauded first season of True Detective (which I didn't watch). Fort Bliss, a film written and directed by Claudia Myers, is a special treat for Monaghan fans. Instead of supporting an A-list actor onscreen, Monaghan gets her chance to lead a film.
She plays Staff Sgt. Maggie Swann, recently returned from service in Afghanistan. Maggie is an army medic, quick to respond to injuries in the field, yet thrown by the changes that have occurred while she's been abroad. Her young son Paul (Oakes Fegley, This Is Where I Leave You) has lived with Maggie's ex-husband Richard (Ron Livingston, Office Space) and grown extremely close to Richard's new wife Alma (Emmanuelle Chriqui, Entourage). Maggie expects a warmer welcome from her son than what she receives. Her father (John Savage, The Deer Hunter), also a veteran, reminds her about the story of Rip Van Winkle, and how long absences mean dealing with change upon return.
Maggie now has to build up again the relationship with her six-year-old son, in the midst of training new medics for upcoming service... and also starting up something with handsome mechanic Luis (Manolo Cardona, Contracorriente). Maggie contains her emotions, and Monaghan's performance is impeccably guarded. As Fort Bliss unfolds, flashbacks to her time in Afghanistan illuminate the reasons for her current nature.
Despite the traumatic events Maggie has survived, she still loves her job (that's why she re-enlisted). Indeed, the primary conflict of Fort Bliss is Maggie's love for her work and service to country versus her love for her son. She asserts to her commanding officer, "I love my son and I love my country, and I don't think I should have to choose between them."
Myers weaves many threads into Maggie's story, leading to a film that is never predictable. The director's affiinity for her troubled main character -- as well as her care for the rarely-depicted subject of women serving in the military -- is obvious. The lighting and shot composition emphasize this. Stark brightness of scenes in Afghanistan and darker-lit domestic scenes show the contrast between Maggie's worlds. There are layers upon layers to Fort Bliss.
Fort Bliss is available on VOD (including Amazon, iTunes and Vudu) and Netflix Instant.
Texas connections: Fort Bliss was filmed in El Paso.