Movies This Week: April 10-16, 2015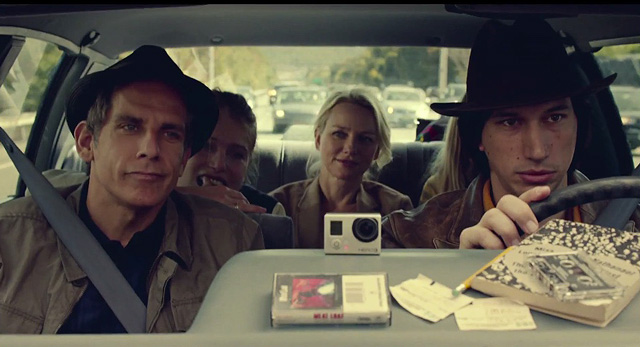 This weekend, the Austin Film Society continues their French Noir series with Claude Sautet's Max & The Junkmen, a film that was never distributed in the United States upon its release in 1971, but finally circulated in a restored print in 2013. This rarity plays tonight and again on Sunday in 35mm at the Marchesa. David Lynch's Blue Velvet picks up a second screening in 35mm on Sunday evening and Richard Linklater will be on hand to introduce the film and lead a post-film discussion. Linklater returns Wednesday night for L'Argent, Robert Bresson's final feature, and Elizabeth Taylor stars in Suddenly, Last Summer on Thursday for Essential Cinema.
The Paramount is hosting golfer Ben Crenshaw, actress Anne Archer and filmmaker Terry Jastrow on Wednesday night for the Austin premiere of The Squeeze. Jastrow has been a producer on Wide World Of Sports and The Olympics and this is his directorial film debut. Based on a true Texas-based story, it follows a talented young golfer who gives up his dreams of playing on the PGA Tour after he becomes involved in high-stakes gambling.
Specialty screenings at Alamo Drafthouse Ritz this week include 1943's Journey Into Fear on Saturday and the unfinished film It's All True on Monday night, both in 35mm as part of the Orson Welles retrospective. Dean Martin and Jerry Lewis star in Artists & Models, a 1955 comedy that is part of the Cinema Cocktails series on Sunday and Wednesday.
The Alamo South Lamar has David Schmader stopping in with his outrageous live commentary for Showgirls on Sunday night. There are two screenings and, having attended this in the past, I can assure you it's a genuine laugh riot. Yes, Schmader does the commentary track on the actual DVD, but here he riffs live in the theater. He takes the time to pause the movie to discuss classic scenes and the film's production in greater detail and, thankfully, skips over the movie's brutal rape scene.
Steve McQueen stars in Bullitt on Monday and Wednesday and South Lamar also has an open caption screening of It Follows happening on Sunday for those who are deaf and/or hard of hearing. The Alamo Lakeline is serving up Spielberg's 1971 film Duel on Sunday and Thursday and they'll also have Drive as part of the Shiner Soundtrack Series on Monday night.
Finally, there are loads of free screenings of Hitchcock's The Birds going on this week at various Alamo locations exclusively for members of their Victory rewards program. Check out the website listing for dates and venues.
Movies We've Seen
Merchants Of Doubt - I rarely say things like "save your money," but this is a movie that is perfectly suited to wait and watch at home, for free, when it's on cable. I will fully admit that I appear to be in the minority here (the Rotten Tomatoes consensus seems to think that it's a "thought-provoking documentary"), but I felt that this look at pundits who spin public opinion was almost offensively dull. (Regal Arbor)
While We're Young (pictured above) - The latest comedy from Noah Baumbach (Frances Ha) finds Ben Stiller and Naomi Watts as a married fortysomethings who become infatuated with a younger couple they meet (Adam Driver and Amanda Seyfried). Initially, their interactions seem to revitalize their relationship and remind them of a life before all of the friends their own age became parents. All the performances here are terrific, but it's especially fun to see Adam Horovitz (aka Ad-Rock from the Beastie Boys) as a proud papa. Elizabeth's review says the film "follows an unexpected path, making excellent use of situational and dark humor." While it certainly doesn't have much competition yet, this is one of the most enjoyable new releases of 2015. (Alamo South Lamar, AMC Barton Creek, Regal Arbor, Violet Crown Cinema)
Also Opening In Austin
A Girl Walks Home Alone At Night - I've been waiting for months for this film to turn up locally. Promoted as an "Iranian Vampire Western," this black-and-white debut film from Ana Lily Amirpour has an incredible 96% on Rotten Tomatoes. Sadly, it's only turning up for late-evening screenings this week, but it's also available on VOD now and will be hitting home video on April 21. (Violet Crown Cinema)
Broken Horses - Bollywood filmmaker Vidhu Vinod Chopra takes on the American Western with his latest release, which stars Anton Yelchin and Vincent D'Onofrio. The Hollywood Reporter says "this baroque stylistic exercise is more ludicrous than enthralling." (Tinseltown South)
An Honest Liar - This critically acclaimed documentary is about James "The Amazing" Randi. The film's press materials call him a "world-famous magician, escape artist and master skeptic." (Regal Arbor)
Girlhood - Director Celine Sciamma previously made a wonderful film called Tomboy and I'm very interested to see her follow-up release. No, this is not a sequel to Linklater's movie, but the English title of this French drama was certainly no accident to earn a little extra attention stateside. The reviews are very strong for this gritty tale of a teenage girl who drops out of school, reinventing herself by joining a gang. It will only be screening once a day in advance of a home video release next month. (Alamo South Lamar)
The Longest Ride - It's time for the annual Nicholas Sparks adaptation to hit theaters and send women across the country swooning down the aisles. Clint's son Scott Eastwood stars alongside Brittany Robertson in a movie that the New York Post calls "shamelessly preposterous as it is predictable." (wide)
Lost River - Ryan Gosling's moody directorial debut was not very well recieved when it premiered at Cannes last year, but the reception was warmer when he brought it to SXSW this spring. Warner Bros. acquired the film on the strength of its director, but seemed to get a little skittish about release plans. As it stands, the film is only being released theatrically today in New York, Los Angeles and Austin, but is available nationwide on VOD. Mr. Gosling is headed to the Alamo next week for a Q&A, but tickets for that sold out almost instantly. (Alamo South Lamar)
White God - Hungary's official entry at the Academy Awards this year for Best Foreign Language Film, Kornel Mundruczo's latest release won the Un Certain Regard prize at last year's Cannes Film Festival. While it may be a trigger for those of you who cannot stand to see simulated animal cruelty, the film uses hundreds of trained stray dogs to craft a political allegory about a young girl who is separated from her pet. (Alamo South Lamar)