Review: While We're Young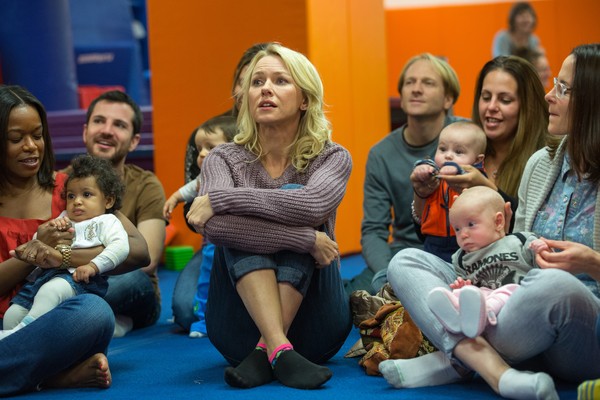 While We're Young, the new film from Noah Baumbach, touches on multiple themes in its hour-and-a-half running time, some more effectively than others. From the ethics of documentary filmmaking to choosing a childless life to the habits of Brooklyn hipsters, there's something here for almost everyone -- which is likely why the comedy feels more mainstream than Baumbach's previous works.
The lead characters, married couple Josh (Ben Stiller) and Cornelia (Naomi Watts), direct and produce documentaries respectively. They stumble into a friendship with free-spirited couple Jamie (Adam Driver, Frances Ha) and Darby (Amanda Seyfried, Mean Girls). The older couple is enamored of Jamie and Darby and their lifestyle. Why spend a weekend with your best friends who just had a baby when you can spend it taking hallucinagens under instruction from a shaman accompanied by Danny Kaye's "Inchworm" and Vangelis tunes?
As they hang out with the young folk, Josh and Cornelia come to their own realizations. Josh, overwhelmed with his own production, gets caught up in Jamie's filmmaking zeal, which leads to certain repercussions. Meanwhile, as her peers are having babies, Cornelia becomes ever more certain that she doesn't want to have children. Frankly, I was impressed by this thematic choice... although without spoiling anything, I'll note that the final sequence of the film wraps everything up in a tiny little predictable bow.
Along with original music from LCD Soundsystem's James Murphy, the comedy is largely scored with chamber music by 18th-century composer Vivaldi, which lends a light, dynamic feel to the film. Baumbach also cast two musicians in While We're Young. Beastie Boy Adam Horovitz plays flummoxed new dad Fletcher, one of Josh and Cornelia's best friends. Peter Yarrow, from the folk trio of Peter, Paul & Mary, shows up as the dotty professor Josh consults for his documentary.
Writer/director Baumbach's script for While We're Young (at least in the parts preceding the finale) follows an unexpected path, making excellent use of situational and dark humor. Just when you think the hipster couple is veering towards stereotype, Baumbach goes deeper into the characters.
Baumbach's film succeeds as a depiction of a couple troubled by the lifestages they feel forced towards, trying to retain their youthfulness through a relationship with a younger couple. I'm not sure it successfully handles all the issues it wants to address, but While We're Young is certainly entertaining to watch as it attempts to do so.
Warning for the squeamish: The shaman section of the film includes scenes of people throwing up.