Movies This Week: April 3-9, 2015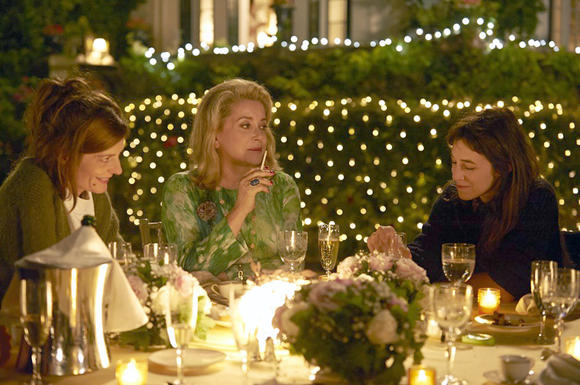 This weekend, the Austin Film Society continues with "Perfect Criminals: The 70's French Noir Connection" series, and Friday night has a killer (no pun intended) double feature on tap. Alain Delon stars in Jean-Pierre Melville's 1967 gangster film Le Samourai (for a one-off screening) paired with Le Cercle Rouge, another Melville classic from 1970 that also stars Delon. The latter film will screen again on Monday night and both are presented in 35mm at the Marchesa. Amanda Wilder's Approaching The Elephant is screening on Tuesday for Doc Nights and David Lynch's Blue Velvet screens in 35mm on Wednesday night as part of the "Jewels In The Wasteland" series, although this edition will only include a video introduction from Richard Linklater due to an unexpected conflict. Essential Cinema on Thursday night will feature Elia Kazan's A Streetcar Named Desire, the 1951 film based on the Tennessee Williams play that features scorching performances from Marlon Brando and Vivien Leigh.
The Alamo Drafthouse Ritz begins an Orson Welles retrospective this weekend. The theater will screen Chuck Workman's 2014 documentary Magician: The Astonishing Orson Welles along with a 35mm print of Citizen Kane on Saturday and Sunday afternoon. The series continues with 1942's The Magnificent Ambersons in 35mm on Monday evening and Thursday afternoon. Just in time for Easter, they've also got a few Big Screen Classics screenings of Monty Python's Life Of Brian on Sunday and Monday. If you're looking to celebrate Rex Manning Day, Girlie Night is presenting a 20th anniversary screening of Empire Records on Wednesday. Considering the home video versions have switched over only to presenting an extended cut of the movie, this is a good chance to watch the original theatrical version again!
Alamo South Lamar is adding a few late-night screenings of Resurrection Of A Bastard this week. This graphic novel adaptation from the Netherlands was a Fantastic Fest selection from 2013 that has recently received U.S. distribution. It's also worth noting that if you're deaf or hard of hearing, South Lamar will be hosting an open captioned version of Furious 7 on Sunday afternoon. Perhaps a little more fitting for Easter Sunday, the Alamo Village has Jesus Christ Superstar and the Alamo Lakeline celebrates the day with Mel Gibson's Passion Of The Christ.
Finally, the indie horror film It Follows heads into even more area theaters this weekend as part of a successful nationwide expansion. Alamo South Lamar will be the only one of those theaters to feature live Skype Q&As with lead actress Maika Monroe and director David Robert Mitchell following tonight's 8:40 pm screening, Saturday's 6 pm screening (which will also feature co-star Keir Gilchrist), and after Sunday's 6 pm screening.
Opening In Austin
3 Hearts (pictured above) - Charlotte Gainsbourg, Chiara Mastroianni, and her legendary mother Catherine Deneuve in this French melodrama from director Benoit Jacquot (Farewell, My Queen). Reviews for the film are fairly mixed, but most note the strength of the performances even when they don't care for the plotline. (Regal Arbor)
Danny Collins - Don Fogelman (screenwriter of Tangled, Cars 2 and, um, Last Vegas) settles into the director's chair to guide Al Pacino in an acclaimed performance as an aging rock star. Over at RogerEbert.com, Matt Zoller Seitz calls it "an appealing comedy with an unabashed streak of melodrama, sharp dialogue, and a superb ensemble cast." (Arbor, Violet Crown Cinema)
Furious 7 - The latest in the franchise that has been a hit all around the world. Furious 7 already qualifies as a genuine critic-proof blockbuster (and then some, since it marks the final screen appearance of the late Paul Walker), but the reviews have been massively positive. The Rotten Tomatoes score is currently resting at 81 percent, making this a rare mainstream hit that almost everybody can agree on. (wide, also available in D-Box Motion Seating at the Galaxy Highland)
The Hunting Ground - Kirby Dick's previous film, The Invisible War, examined the epidemic of sexual assault in the military. With his latest documentary, he turns his attention to the staggering statistics regarding rape and sexual violence on college campuses across the country. (Violet Crown Cinema)
Woman in Gold - Simon Curtis follows My Week With Marilyn with this true life drama about a Holocaust survivor named Maria Altmann (Helen Mirren) who battles the Austrian government for an original Klimt painting the Nazis stole from her family right before World War II. Her fight led to a Supreme Court case in 2004. Also starring Ryan Reynolds, Katie Holmes, Jonathan Pryce, Elizabeth McGovern, and Orphan Black star Tatiana Maslany, who portrays Maria in flashbacks. (AMC Barton Creek, Arbor, Violet Crown Cinema)