SXSW 2015: 'Being Evel' in Austin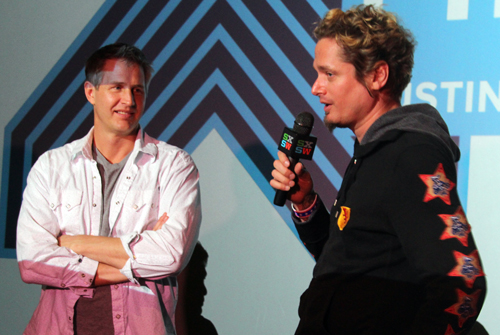 Award-winning documentary filmmaker Daniel Junge (Iron Ladies of Liberia) was in Austin last month for the SXSW screenings of Being Evel, which premiered at Sundance Film Festival 2015. The documentary highlights the dynamic and stark reality behind icon Evel Knievel, who launched his stunt cycle in the 60s and 70s, inspiring generations and impacting the daredevil culture.
Junge's short film Saving Face, which follows the heart-wrenching experiences of acid attack survivors in Pakistan, won the 2012 Academy Award for Best Documentary Short as well as an Emmy for Best Documentary. His film They Killed Sister Dorothy, which documented the murder of 73-year-old activist Catholic nun Sister Dorothy Stang, won the SXSW Grand Jury and Audience awards in 2008. His most recent documentary Beyond the Brick: A Lego Brickumentary premiered at the 2014 Tribeca Film Festival and is set to be released by Radius/Weinstein.
Junge hosted a Q&A session after all three of the SXSW screenings of Being Evel with consulting producer Lathan McKay of Evel Knievel Enterprises (pictured at top). The pair hosted an informative and engaging dialogue with audience members. Junge spoke about the intensity of working with the Knievel family as "not always easy, but it's always entertaining" and his appreciation of the collaboration. Junge said the film was the fruition of 35 years of "reconciling the hero in my mind with the real person who is sometimes less than heroic."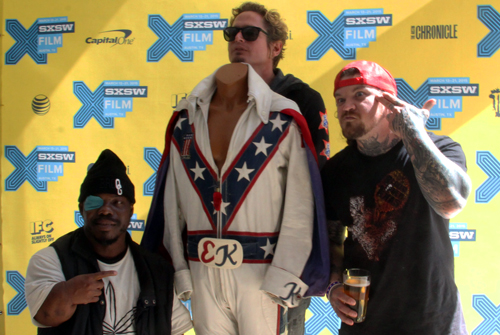 McKay has spent several years with a resurrected Evel Knievel Enterprises crew hunting down Evel Knievel's scattered memorabilia as part of his "Evel Archaelogy" project. He mentioned that Junge had uncovered some people who had never been interviewed.
"I thought I dug deep, but Daniel did an amazing job finding people that even we couldn't locate who had retired or were under rocks," McKay noted.
Each of the SXSW screenings of Being Evel featured a display of Evel Knievel memorabilia including his jump leathers, as seen above with Bushwick Bill, McKay and stuntman Aaron Thomas. Visitors to the 2015 MotoGP April 10-12 at the Circuit of Americas will be able to see these and many more items from the Evel Knievel Collection as part of the featured events.
Being Evel was picked up for distribution by Gravitas Ventures not long after its Sundance debut, and will be released theatrically and on VOD this summer.
[Photo credits: "Daniel Junge and Lathan McKay at Violet Crown," "McKay and EK Fans Bushwick Bill and Aaron Thomas" by Debbie Cerda.]