SXSW Review: Being Evel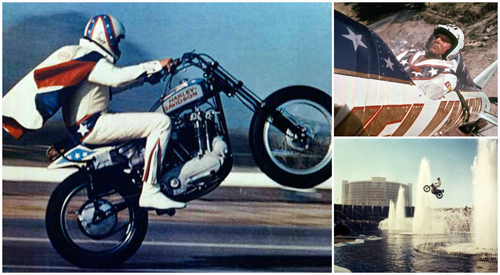 "Fast, faster, and disaster"
-- Johnny Knoxville, producer of Being Evel
Generations have been affected over several decades by the spirit of legendary icon Evel Knievel. As a child growing up in the 70s, my own most prized possession was my Evel Knievel stunt cycle and action figure. "Popping a wheelie" on my bicycle was an exhilarating micro-attempt to emulate the excitement of witnessing Evel's televised stunt jumps.
Filmmaker Daniel Junge was influenced enough to tell the complex story and legacy of a hero who wasn't always the good guy in his new documentary Being Evel. Junge has artistically created a thorough portrayal of an extraordinary man who was inherently flawed. Knievel's lavish spending and frequent womanizing were quite public, as were his temper and stubbornness. As a showman and king of the daredevils, Knievel set the foundation for the culture of action and extreme sports in the United States.
Knievel was raised by his grandparents in Butte, Montana, after his parents split. In a town where the credo is "don't back down" and a lot of drinking and fighting with over 3,000 prostitutes in residence, Bobby Knievel had frequent run-ins with the local police. It wasn't until he married and had children that Knievel changed his criminal ways and made his success as an insurance salesman. When he moved on to work in a Honda motorcycle dealership, Knievel decided to stage stunts to promote and sell. The rest is a complicated history outlined quite well in Being Evel, including the controversy over the Snake River Canyon "Skycycle X-2" jump and Knievel's attack with a baseball bat on his promoter Shelly Saltman.
Through the incorporation of interviews, Being Evel is told through the first-person viewpoint of people who were intimately connected to Knievel as well as daredevil stars and action sports celebrities whom he heavily influenced. Although this approach may sound rather dry, Junge and his co-writer and editor Davis Coombes -- who won an Emmy for editing Junge's Saving Face -- expertly weave compelling stories with archival images, video footage and memorabilia from Knievel's history.
Famous former Wide World of Sports Frank Gifford, AMA Motorcycle Hall of Fame inductee Skip Van Leeuwen, former professional skateboarder Tony Hawk, Travis Pastrana and Shelly Saltman are just a few of the famous names that contribute along with immediate members of the Knievel family to share their memories of the legendary man. Through a well-crafted post-production, all of the subjects are placed in the historic Paramount Theater in Denver, Colorado, with historical images projected in the background.
The composition and art design creates a vibrant flowing tapestry of sight and sound, bolstered by a wonderful score by John Jennings Boyd and well-matched music selection. From the opening titles set to T. Rex's "20th Century Boy" to the closing scene set to Peter Frampton's "Show Me the Way," the music programming contributes to a dynamic engagement for the audience. The use of aerial photography gives the audience a brief but exhilarating experience of what Knievel must have felt, akin to soaring into the sky.
Consulting producer Lathan McKay of Evel Knievel Enterprises provided much of the memorabilia seen in the film, including photos, leathers, helmets and x-rays that were on display at the SXSW screenings -- as well as never-before-seen footage.
An interesting observation of Being Evel is that this documentary could have very easily just been a biopic of Knievel's life. However, the final ten minutes -- which seem more of an epilogue -- come across as a thoughtful homage and fitting tribute to Knievel. Producer Johnny Knoxville expresses his appreciation of Knievel's legacy in a rather understated manner, observing that although many may have thought Knievel was indestructible, his death from pulmonary fibrosis was a reminder that he was indeed human. "What he did transcends that. There's a little Evel in all of us -- life can be tough, and you need your heroes."
Don't miss a chance to see Being Evel when it hits theaters later this summer -- this dynamic portrayal is by far my favorite documentary so far for 2015.
Austin/Texas connections: Consulting producer Lathan McKay, who owns the largest collection of Evel Knievel memorabilia, resides in Austin, and producer Chelsea Matter recently moved to Houston.