SXSW Review: Rolling Papers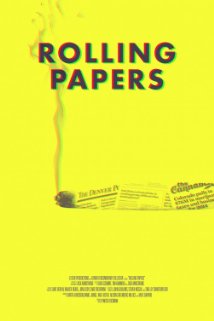 I'm a lifelong non-smoker, and marijuana holds no interest for me, so Mitch Dickman's documentary Rolling Papers would be one of the least likely SXSW screenings to find me in its audience. However, I make a point every year to join friends for at least one or two screenings that I would never have selected myself. It's a great (non-chemical) way to expand the mind, you know? These excursions outside my comfort zone frequently pay off, and the fact you can walk into almost any film at this festival and enjoy yourself is a testament to the SXSW programming staff.
Rolling Papers can be considered as nothing but a complete success. The film is informative, focused and entertaining, generating interest in me for a topic I find generally unappealing. Dickman chose, wisely, to make his film not about recreational marijuana, its legalization in Colorado, or politics -- all tired subjects which have been covered extensively. Instead, his camera is witness to the birth of a ground shift in news coverage.
As newspapers around the country are in the process of closing their doors, the Denver Post takes a chance and assigns entertainment editor Ricardo Baca to create a new section, from the ground up, covering all things pot-related. In short order The Cannabist, as the online section is so cleverly named, is generating publicity, increasing subscriptions and raising eyebrows.
In addition to Baca, Dickman interviews Post editor Greg Moore and Cannabist staff writers including columnist John Wenzel, Jake Browne (reviews) and Brittany Driver (parenting). He also turns a lens on reviewer and photographer Ry Prichard who has distinguished himself as "the biggest weed nerd in town" according to Rolling Stone magazine, and accompanies Prichard to the "Cannabis Cup."
It would be easy to dismiss a marijuana-focused publication as frivolous or fringe, but Rolling Papers documents how Baca has built a serious, high-quality e-zine that even caught the attention of Whoopi Goldberg, who has contributed articles to the site. With contributors covering news, product reviews, recipes, culture and opinion, I find The Cannabist is a respectable publication that serves exactly the mission a news organization is meant to do, namely informing and enlightening its audience. I owe that finding to Mitch Dickman's excellent and entertaining movie.
(Distribution news: The Cannabist reported last week that Rolling Papers has signed a deal with distributor Alchemy for release later this year.)