SXSW Review: Sir Doug and the Genuine Texas Cosmic Groove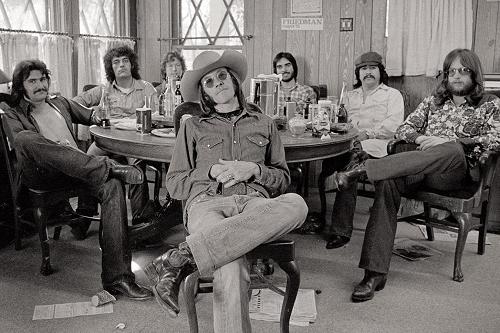 You just can't live in Texas/If you don't have a lot of soul
-- Doug Sahm, "At the Crossroads"
Sir Doug and the Genuine Texas Cosmic Groove is a groove all right, and a great tribute to one of Texas' greatest musicians.
Doug Sahm gave us "She's About a Mover" and "Mendocino" -- along with a zillion other songs -- and was an influential songwriter and performer who reinvented himself musically many times. He played in country bands as a child, cranked out Sixties pop songs with the Sir Douglas Quintet, turned psychedelic in San Francisco, helped put Austin's cosmic cowboys on the map in the Seventies, and ultimately returned to his San Antonio Tex-Mex roots with the Texas Tornadoes in the Nineties. Sahm wasn't just able to play any form of indigenous Texas music; he was Texas music.
Sir Doug celebrates all of Sahm's musical incarnations. Kicking off with a killer 1976 Austin City Limits performance of "She's About a Mover," the documentary then takes us back to Sahm's days as a child prodigy playing steel guitar in San Antonio clubs. (Known as Little Doug Sahm, he played with Hank Williams and other greats before he was a teenager.)
From there, Sir Doug follows Sahm's life and career until a heart attack ended both in 1999. On the way, we ride along with an insanely talented musician living an often insane musician's life. Sahm's career was wildly unpredictable; easily bored, he was always steering his music in new directions. This brought him artistic fulfillment, respect from his peers and worship from critics, but it made him hard to market. He'd find an audience, only to leave it behind when he moved on to a new sound. This musical shape-shifting also denied Sahm the fame he deserved. (Not that Sahm seemed to care, of course; to him, it was all about the groove.)
While Sir Doug focuses on Sahm's music, it doesn't gloss over his personal troubles -- and he had many. In a way, Sahm's personal life was more predictable than his career -- that is, predictably unstable. Among other trials and tribulations, the manic energy that drove his music also killed his marriage. (Actually, the manic energy was less of a culprit than the usual suspects: booze, drugs, constant touring and too many girlfriends.)
As we would expect, Sir Doug tells Sahm's story with generous helpings of his music, archival film and video, photos and interviews. Director Joe Nick Patoski and his crew have assembled an entertaining film (could a film about Sahm be otherwise?) that mixes terrific concert footage and other media with commentary from Sahm's friends, family and fellow musicians. Keyboardist Augie Meyers, who played with Sahm for decades, appears frequently in the movie and shares plenty of anecdotes. So does Sahm's son Shawn, who looks uncannily like his father.
Sir Doug is of special interest to Real Austinites. Sahm lived in the River City in the Seventies, and Sir Doug takes us back to the city's groovy heyday. The movie devotes much of its second act to this cherished time and place, reminiscing about the Soap Creek Saloon and other legendary venues where Sahm, Willie and other cosmic cowboys played. It shows us the uncrowded, unhurried city Austin once was; the film nails the city's vibe during its finest era. (Sahm would say modern Austin has lost the groove. He would be right.)
As entertaining as Sir Doug is, I wish it were as artistically daring as its subject. It's a straightforward, conventional biography with a linear structure: birth, career, death, legacy -- and no surprises. No particularly deep examinations of Sahm's life or his music, either; the music, so complex and influential, merits more analysis (especially its impact on other artists). What Sir Doug shows us is fine -- essentially Doug Sahm 101, the film is a rollicking reminiscence for Sahm's fans and a good introduction for the unfamiliar. But a wildly creative soul like Sahm could use a more creative approach to telling his story.
That said, Sir Doug and the Genuine Texas Cosmic Groove is a well-crafted movie, slickly produced and obviously a labor of love. It captures Sahm's life-is-a-groove view of things, and his fans -- along with fans of Texas music -- no doubt will enjoy it.
Austin/Texas connections: Sir Doug and the Genuine Texas Cosmic Groove was produced in Austin by Arts+Labor, an Austin creative content company. Doug Sahm was born in San Antonio, and the film features many Texas musicians. Director/co-writer Joe Nick Patoski has been authoring books and articles about Texas and Texans for more than 30 years. He lives near Wimberley. Co-writer Jason Wehling has produced a number of Austin movies, including An Unreal Dream: The Michael Morton Story, The Retrieval and Saturday Morning Mystery.
Sir Doug and the Genuine Texas Cosmic Groove screens again on Friday, March 20 at 2:30 pm at Alamo Drafthouse South Lamar and Saturday, March 21 at 11 am at the Vimeo Theater in Austin Convention Center.