Movies This Week: March 20-26, 2015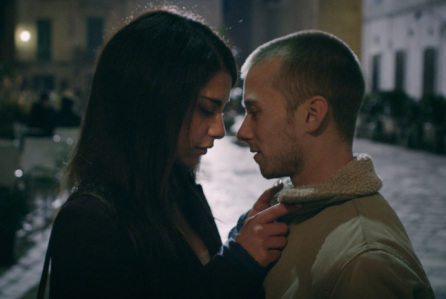 Even if you've spent the last week in line for SXSW movies all across town, I'm here to report that there's no rest for the wicked. There are a lot of incredible screenings ahead that you won't want to miss, so buck up! First up, the Violet Crown Cinema has White Haired Witch on deck for Asian Movie Madness on Tuesday night. The movie is sponsored by Well Go USA and Iron Dragon TV and you can grab tickets here.
Jean Cocteau's 1946 adaptation of Beauty And The Beast screens on Tuesday up at the Austin Film Society Screening Room (1901 E. 51st Street) for Avant Cinema. Richard Linklater returns with the first selection in the "Jewels In The Wasteland II" series, which will find him presenting Jim Jarmusch's Stranger Than Paradise in 35mm on Wednesday at the Marchesa. You can buy a series pass here to get you into the first 5 films of the series and save some cash if you're going to make it out to each film. On Thursday night, the recent "Children Of Abraham/Ibrahim 9" series wraps up at the Marchesa with 2011's Free Men.
The Drafthouse is serving up all-you-can-eat pizza parties for the original Teenage Mutant Ninja Turtles movie this weekend. It's at Alamo Lakeline on Saturday at noon and then at Alamo Slaughter Lane on Sunday at noon. Afternoon Tea also happens at Alamo Slaughter on Saturday afternoon with Joe Wright's Atonement. There's another benefit screening of The Warriors at Slaughter on Tuesday to raise money for the National Multiple Sclerosis Society via the Drafthouse's own MS-150 bike team, and the Drafthouse will also be hosting a "Backwards Feast" for The Curious Case of Benjamin Button on Wednesday.
Alamo Ritz has a few screenings of Salad Days: The DC Punk Revolution on Sunday and Monday. Also at the Ritz this week: the Coen brother's classic Miller's Crossing on Monday, an Oskar Blues Beer Dinner of Wes Anderson's Rushmore on Tuesday and Experimental Response Cinema presenting A Spell To Ward Off The Darkness on Wednesday. Alamo South Lamar is bringing in director Greg Sestero and special guest Dan Janjigian for two special screenings of The Room on Sunday featuring a live audience script reading, a behind-the-scenes documentary and a Q&A. Girlie Night has Joe Wright's version of Pride & Prejudice on Tuesday night and, on Wednesday, South Lamar is hosting a special beer dinner feast based on the new Drafthouse Films release Spring. Also this week, the Alamo Lakeline has John Woo's Face/Off in 35mm on Sunday and Thursday and the Alamo Village has 35mm screenings of the animated 1986 release Transformers: The Movie happening Saturday and Sunday.
Opening In Austin
Ballet 422 - Director Jody Lee Lipes uses a basic cinema verite style to follow Justin Peck, the New York City Ballet's choreographer, while he creates the 422nd original piece of the troupe where he is also a member. (Regal Arbor, Violet Crown Cinema)
Do You Believe? - This is the latest effort from the producers of God's Not Dead. Mira Sorvino, Cybill Shepherd, Sean Astin and (wait for it) Lee Majors star in this "faith-fueled journey that powerfully impacts everyone it touches in ways that only God could orchestrate." So sayeth the movie's official website. (wide)
Gett: The Trial of Viviane Amsalem - This Israeli drama about a Orthodox Jewish woman trying to finalize a divorce has a rare 100% rating on Rotten Tomatoes. Technically, this is the third film in a trilogy, but my understanding is that you don't need to have seen the previous features to enjoy this one. (Regal Arbor)
The Gunman - From the director of District 13 and Taken, this thriller stars Sean Penn, Idris Elba, Javier Bardem and Ray Winstone. With a cast like that, it's shocking to see how bad the reviews are. NPR's Andrew Lapin called it a "dum-dum action picture that briefly pretends to be about world aid before returning to muscular, middle-aged men beating the snot out of each other." (wide)
Insurgent - The biggest release of the weekend is the second film in the Divergent series. The awful reviews won't make a bit of difference (even USA Today called it a "half-baked dystopian sequel") to the young adult fans of the books. Look for a solid #1 box office debut, even though it will likely be short lived. (wide, available in 2D, 3D, digital IMAX screenings and D-Box Motion Seating in select theaters)
Red Army - Gabe Polsky directed, produced and wrote this documentary about the Soviet National "Red Army" Hockey Team and their rise to prominence during the Cold War. (Alamo Slaughter Lane, Regal Arbor, Violet Crown Cinema)
Spring (pictured above) - The latest release from Drafthouse Films is being pitched as "Richard Linklater meets H.P. Lovecraft." Lou Taylor Pucci (Thumbsucker) stars as an American who takes off to Europe and goes backpacking in Italy. When he meets and falls in love with a charming but mysterious young woman there, they begin a romance that is anything but typical. (Alamo South Lamar, also available on VOD)