Box-Office Alternatives: I Am Sam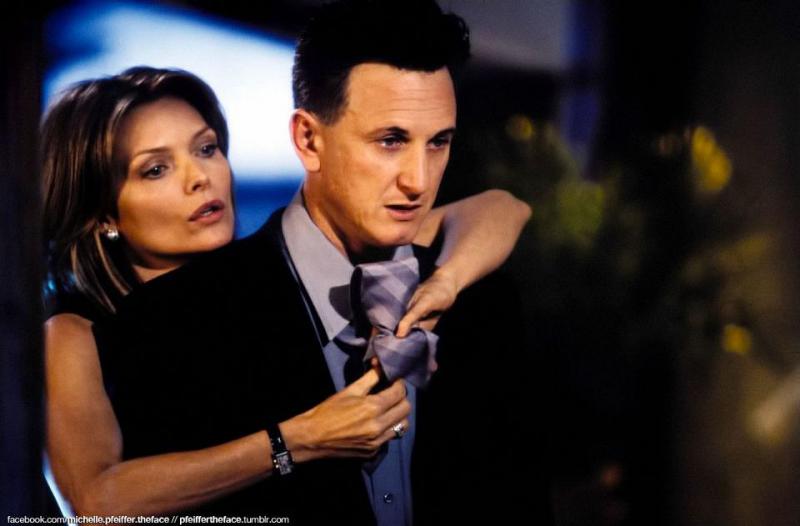 This week sees the release of The Gunman, an actioner starring Sean Penn as a sniper on the run for his life after the assassination job he was hired for goes awry. The film will surely draw in the parents of teens seeking out Insurgent, thereby affording The Gunman a decent performance at the box office.
In looking back through Penn's filmography before writing this, it became evident to me that the incredibly fearless actor has only anchored a number of films throughout his many years in the movies. Moreover, his selectivity toward leading projects and the diversity of his choices make him one of the most chameleon-like actors in film.
Among all of Penn's leading turns, my favorite still remains his Oscar-nominated work in the drama I Am Sam (2001). Penn spent many hours studying the developmentally challenged (to compelling and magical effect) in order to play Sam Dawson, a man with the mind of a child who finds his young daughter Lucy (Dakota Fanning) taken from him after he is declared an unfit parent due to his disability. Through a series of events, Sam meets a high-powered attorney Rita (Michelle Pfeiffer) who agrees to help Sam prove that, regardless of his limitations, he does indeed have the ability to be the father Lucy deserves.
At first glance, I Am Sam is a commentary on family and, more specifically, what makes a person worthy enough to be a parent. Scenes with Sam and Lucy echo those of standard father-and-daughter moments, including Sam telling Lucy to do as she's told or throwing a surprise birthday party for the seven-year-old. Those roles switch in the blink of an eye when Sam throws a fit over going to a restaurant of his daughter's choosing or his inability to pronounce certain words in a bedtime story, which Lucy manages perfectly.
Despite the switching of roles, there is no doubt of the powerful bond between the two. The scene where Sam reports for his scheduled visitation after having not seen Lucy for weeks is made all the more powerful by Lucy's anger and sadness as she hits her father while crying and screaming about how he forgot all about her, is as heartbreaking as can be. Sam and Lucy's love rings true courtesy of the script, Penn's genius and Fanning's natural talent (her debut performance, this remains one of the best child performances of all time).
Though she isn't completely forgotten, the story does push Lucy to the sidelines a bit (necessary, I guess, in a film about a child being taken away) after Sam encounters Rita, an emotional wreck of a woman who also happens to be one of the best attorneys in L.A. Rita has tremendous success in her professional life thanks to a brutal instinct and a Type A personality. Her her personal life however, includes a highly compromised relationship with her son and a non-existent one with her husband. After a series of events forces her to take Sam's case, she approaches him and the situation with unease, yet gradually becomes won over.
In Rita, Pfeiffer is given one of the more interesting roles of her filmography. She plays the character as the controlling, manic individual that she is, yet never turns her into someone unsympathetic. On paper, Rita is cold and manipulative while on film, Pfeiffer manages to convey the reasons behind her complexities and is able to generate pity on her behalf.
It's at the midpoint of the film where I Am Sam becomes something of an unconventional love story. The relationship that develops between Sam and Rita is one not based on lust (though a scripted love scene was shot and later discarded out of fear of being too envelope-pushing), but rather on love in its purest form. Its so rare to see a film offer up two characters from completely opposite ends of the spectrum, and allow them to develop a truly unshakable bond. Through Rita's belief in him, Sam develops an independence and a will that was no doubt pushed to the sidelines by others. While in Sam, Rita at last has encountered someone who finally tells her that she is enough the way she is.
I Am Sam split those who saw it with regards to some of the legal decisions made in the film as well as the film's final ending. Yet audiences recognized the undeniable humanity throughout I Am Sam and proceeded to make the movie a $100 million hit upon its December 2001 release. Some no doubt brand I Am Sam as another heart-tugging weepie, yet it remains so much more than that. It challenged the images of traditional human relationships, provided Fanning with a brilliant entry into the world of film acting, gave Pfeiffer a complicated character for her to run with, and it reaffirmed Penn's status as one of the great acting marvels of all time.
Where to watch: I Am Sam is currently available for online streaming via Amazon Instant Video and iTunes. It's also on DVD and you can rent it locally from Vulcan Video.