SXSW Review: They Will Have to Kill Us First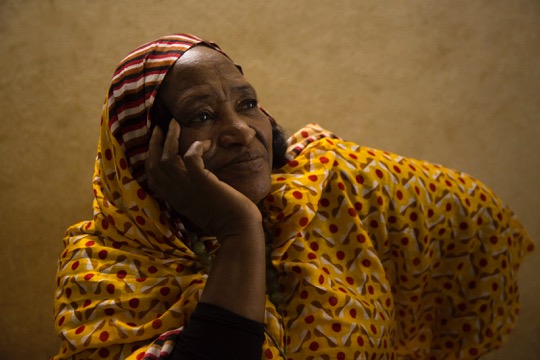 When a film starts with a history lesson told music video-style through French-language rap, you know you're watching something unique. The impeccable sound design is the first thing I noticed about They Will Have to Kill Us First; clear gun pops accompany news reports and this introductory music. The opening sequence explains recent events in Mali that led to the split of the country and the sharia law ruling the northern section. Residents of Timbuktu and Goa became refugees in their own country as they left the violent unrest of the north to live in Bamako... or surrounding border countries such as Burkina Faso.
Among those forced to leave were many musicians, as music was banned in the north in 2012. How difficult it is to imagine a day without music -- months without it must have felt a lifetime. As famous singer Khaira Arby puts it, "Music is like oxygen for human beings." When we first see her in 2012, she seems a dimmed version of her self, distraught over the fate of her country. Filmmaker Johanna Schwartz also introduces us to the newly formed band Songhoy Blues, party musician Moussa and refugee singer Disco.
The band members of Songhoy Blues are shown in Bamako, working to create their own art despite outdated laws. One of the men says, "We can't go on being afraid, we have to resist." The documentary explores their trajectory from the band's early days of formation through their signing with a British label and touring Europe. (As of yesterday, amidst their multiple Austin shows this week, the band has now signed with Atlantic Records.)
Among the interviews with the artists, Schwartz provides detailed context for their current situation. Once lead singer for a popular band, Disco now visits refugee camps in Burkina Faso and helps women there, feeling somewhat apart from the performer she was in Mali. Moussa is also in Burkina Faso, separate and worrying for his wife in Goa. He lacks much enthusiasm to play music outside of his own country.
As the political situation of Mali fluctuates and elections are held, singer Khaira becomes determined to hold a celebratory concert in Timbuktu. Despite worries of terroristic acts, she arranges the concert and even works to get Disco to return and sing for it. There is a ever-present worry as one watches these events, as the danger for these performers feels imminent.
Music is a large part of the artists' lives in They Will Have to Kill Us First, but the film left me wanting further samples of Disco singing and Moussa playing guitar. Songhoy Blues is shown performing more than any of the other performers. Nick Zinner of the Yeah Yeah Yeahs composed the score for the film, and also appears in it as the producer of Songhoy Blues' first album. The soundtrack includes two previously unreleased duets (here's hoping the soundtrack album is released eventually).
Schwartz's documentary emphasizes the strength of these women and men as they confront censorship in their daily lives. The director's admiration for her subjects, and her years of experience covering the continent, shines through. During the Q&A after Tuesday's screening, Schwartz said about the censorship of musicians in other countries, "I want to... make that a topic." She encouraged anyone who appreciates her movie to support the artists by buying their albums.
They Will Have to Kill Us First screens once more this evening (Friday) at Vimeo Theatre at Austin Convention Center. [info]