Austin at SXSW 2015: Lizzie Velasquez Shows 'A Brave Heart'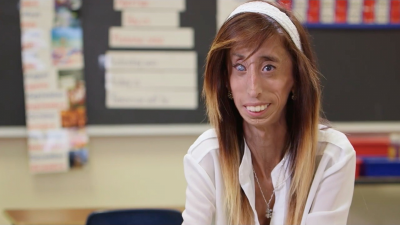 Elizabeth "Lizzie" Velasquez is 25 years old and weighs 58 pounds. Velasquez, a native Austin and Texas State University alumna, was born with a rare, unnamed syndrome that prevents her from gaining weight. As a child, she was bullied in school for her appearance and later, as a teenager, was bullied online where she found a YouTube video that called her "The World's Ugliest Woman."
A Brave Heart: The Lizzie Velasquez Story, which premiered at SXSW this week, shows Velasquez's physical and emotional journey from bullying victim to anti-bullying activist. The documentary paints a portrait of Velasquez using stories from friends and family and leading up to her 2013 multi-million-viewed TEDxAustin talk. She garnered acclaim from this motivational talk and was invited to speak about her experiences on television shows such as The View, and has been interviewed by the Associated Press, among other publications. These experiences prompted her to lobby on Capitol Hill for the first federal anti-bullying bill.
Velasquez was unable to answer questions by phone or in person because of health issues but did so via email instead.
Slackerwood: When and how were you approached with the idea for the documentary?
Lizzie Velasquez: Sara Bordo, the director and producer of my film, called me in February of 2014 after my TEDxAustinWomen talk went viral. Sara, who also directed the TEDx event, told me she had a wild idea to do a documentary with me to help put a spotlight on my story as well as my anti-bullying efforts.
What was your initial reaction?
Velasquez: Throughout the years I've been approached many times to do a documentary and it was never the right time or the right people. When Sara asked me, my immediate answer was yes. I knew in my heart that she was the one that I could trust to do something like this.
What did your family think about the documentary?
Velasquez: The one word I hear my family use most often when talking about the documentary is "proud." They've seen the movie multiple times now and cry tears of pure happiness every single time. They couldn't be happier with how the movie turned out.
How long did the documentary take to shoot and complete?
Velasquez: All together the documentary took a little over a year to shoot and complete. From day one, we hit the ground running and haven't slowed down since.
What was the best and most difficult part about the documentary's process?
Velasquez: The best part of filming for me was having our team and crew go from being friends to family. We spent just about every day together, shared many tears and laughs and each learned so much about each other, as well as the creative process of making a movie. The hardest part for me personally was initially crying on camera. I am a human being, so there are days that are not so easy for me. After the first day of filming my hesitation to show my vulnerable side went out the door; I was in a safe and supportive environment and I am so thankful for that.
How do you think the documentary will be received?
Velasquez: I hope that people who watch the documentary feel inspired and motivated to start helping make a change in their own lives, as well as making a positive change in the lives of others.
Have you been to SXSW?
Velasquez: Even though I was born and raised in Austin I went to one music event last year for my first time at SXSW. I've always been hesitant to go into large crowds, but I am over-the-moon excited to be sharing something so special to me at SXSW and in my hometown.
A Brave Heart: The Lizzie Velasquez Story will screen again at SXSW tonight (Thursday) at 6:30 pm at the Topfer Theater at ZACH.