SXSW Review: 7 Chinese Brothers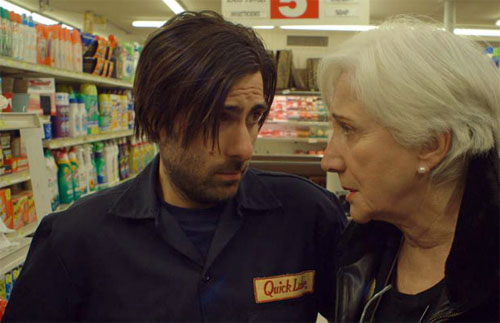 Austin filmmaker Bob Byington likes to set his films in an environment many of us recognize and understand: the featureless, tidy, chain-populated world of the lower-rent suburbs. His characters often work thankless jobs that actually exist in the real world, often in food service. They live in dumpy rentals, they drive cheap or decrepit cars. Apart from the occasional smartphone or computer, the movies could be set in any time in the past few decades and in any American suburb or small city.
And it's within these almost generic settings that Byington brings us movies about people (young men, generally) who change their lives in small but significant ways -- unexpected events leading to improbable effects. It's a slightly twisted world, but ultimately grounded by mundane surroundings.
In Byington's latest movie, 7 Chinese Brothers, slacker Larry (Jason Schwartzman) is fired from a Buca di Beppo after his bosses catch him enjoying the restaurant's booze. They accuse him of hoarding tips as well, although we never find out whether this is actually true.
Employed or not, Larry drifts aimlessly through life, tethered to his heavily spiked convenience store go-cup. He gets drugs from his friend Major (Tunde Adabimpe), who works in the retirement community where Larry's grandmother (Olympia Dukakis) lives. He's attentive to his grandmother, but his lack of ambition and career goals drives her up the wall. But he's most affectionate with his dog Arrow, the laziest bulldog ever spotted onscreen, who steals the movie with instantly with a single eyeroll in the opening scene.
Larry's life starts to change course when he takes his car to a Quick Lube, becomes enamored of manager Lupe (Eleanore Pienta), and applies for a job there. As expected, he falls for her -- unexpectedly, he also starts to love the job itself. And all sorts of characters and situations attach themselves to this seemingly simple story: his greedy co-workers; the buffoonish, mean-spirited managers from his previous job; a lawyer (Stephen Root) with no sense of personal space; the influential but rarely seen owner of the Quick Lube and myriad other concerns (Alex Karpovsky).
Larry is difficult to connect with at first, but slowly earns the audience's sympathy. With each subsequent film, Byington's man-child protagonists get older (at least in years, if not behavior) and more likeable. Schwartzman often seems cast in brusque or smarmy characters these days, but 7 Chinese Brothers is quite different. He makes Larry engaging even when he's being a bit of a jerk. (Amusingly enough, the scene in which he may be the least affable also includes Alex Ross Perry as a cranky driver/veterinarian -- Schwartzman plays one of his most off-putting characters in Perry's film Listen Up Philip.)
Other characters are sketchily but amusingly drawn -- Lupe gets a little bit of nuance, but is primarily a sweet-tempered love interest. Dukakis is such a veteran actress that she needs little to work with. Adebimpe's character Major is the only one apart from Larry's with any complexity, and he handles it beautifully. Chris Baio's score is more subtle than his music for Somebody Up There Likes Me -- which it needs to be, fitting the film's emotional temperature perfectly.
7 Chinese Brothers is short for a feature, but packs a number of characters in under 80 minutes. I hesitate to use terms like "quirky comedy" since that calls to mind Zooey Deschanel singing cutely, so I'll say that the comedy in this film is off-center and unusual. The scope is smaller than Byington's previous film, Somebody Up There Likes Me, but 7 Chinese Brothers feels oddly warmer and more personal. In fact, it's downright sweet-tempered in its way.
7 Chinese Brothers does not currently have distribution, but if you want to take a road trip, you can catch it next month at the Dallas International Film Festival [more info].
Austin connections: 7 Chinese Brothers was shot in Austin, although like other Byington films, you wouldn't know if it if you didn't live here. Some sequences were shot in what looks like Mueller, the Crestview IGA, and one recognizable stretch of The Drag. And that's really the local Buca di Beppo out by Gateway. Many cast members will be familiar to Austin indie filmgoers, such as Chris Doubek, Gary Teague and Alex Karpovsky. Filmmaker Michael Tully (Ping Pong Summer) also appears briefly, as does Byington himself.