SXSW Review: Peace Officer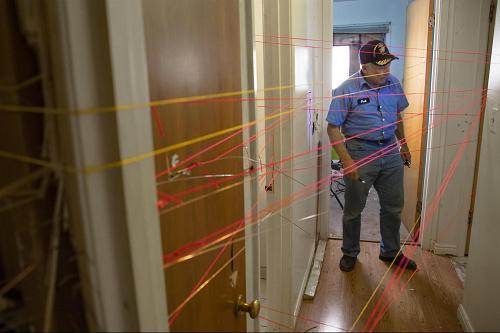 Sometimes peace is purchased with violence.
-- Salt Lake County Sheriff James Winder, in Peace Officer
William "Dub" Lawrence is the perfect documentary subject. After a long career in law enforcement, he has many stories to tell -- he helped break the Ted Bundy case as a rookie cop, and the failings of criminal justice he saw on the beat inspired his successful run for Sheriff of Davis County, Utah in 1974. Now semi-retired, he works as a private investigator and, curiously, also repairs water and sewage pumps. In his spare time, he flies his private plane.
He's also spent much of his spare time investigating a tragic episode in his life, one that inspired the enraging new documentary Peace Officer: In 2008, the SWAT team he established 30 years earlier killed his son-in-law, Brian Wood, during a standoff at Wood's house.
After physically abusing his wife, Wood retreated to the cab of his pickup and was threatening to kill himself. He was calm and threatened no one else, but when police arrived, the incident quickly escalated as dozens of officers from multiple SWAT teams surrounded the house. They arrived in armored vehicles and even a helicopter, shot out the truck's windows, and the event became a media circus. After many hours, the standoff ended in mayhem -- and Wood ended up dead. The police claimed he committed suicide.
Not satisfied with the official investigation into his son's death, Lawrence launched his own investigation. He spent years uncovering the truth; along the way, he also investigated other officer-involved shootings and SWAT team raids in nearby areas. He uncovered many tragic cases in which police used excessive -- and sometimes lethal -- force.
Peace Officer focuses on Lawrence, but presents his case and others he investigated within the larger context of police militarization. In a nationwide trend fueled by the War on Drugs and free surplus military hardware, police departments large and small have been heavily arming themselves. Citing statistics and showing us plenty of dramatic news footage, Peace Officer leaves no doubt that these law enforcement agencies are using their deadly new toys to turn routine search warrants and disturbance calls into violent raids, often with disastrous results.
With public sentiment turning against police militarization, it's tempting to make a one-sided documentary condemning it. But filmmakers Brad Barber and Scott Christopherson take an admirably balanced approach. They interview victims, but also surprisingly candid cops who recall their most dangerous experiences on the job. Some are earnest, sympathetic figures who admit it's a terrifying experience to enter the home of a potentially armed and dangerous person. Others do their profession no favors; they come across as macho and cold hearted, the sort of cops who don't deserve the public's trust.
Peace Officer also makes good use (but not overuse) of talking-head interviews with criminal justice experts, who have nothing good to say about arming cops with military vehicles and high-powered weapons. Still, these experts caution that there are rare occasions, such as hostage situations and mass shootings, when SWAT teams are necessary.
But despite its even-handed approach, Peace Officer doesn't hide its anti-militarization point of view. It's an unapologetic polemic, a call to action against trigger-happy cops and the corrupt criminal justice system that protects them. (Police officers who shoot civilians – armed or not -- are almost never prosecuted.)
Peace Officer drives home its point with powerful arguments: heartbreaking testimonials from police violence victims and their survivors. One victim is 21-year-old Danielle Willard, who was unarmed and sitting in her car when an officer shot her to death from several feet away. Who wouldn't share the outrage of her grieving mother? The film's strongest arguments, however, are from Dub Lawrence, a likable reform advocate with the ultimate street cred: He wants to slay the monster he helped create.
Peace Officer is Barber and Christopherson's first feature-length documentary, and it's a remarkable work. It's slickly produced and loaded with compelling footage. And sadly, the recent tragic events in Ferguson and elsewhere make Peace Officer's release all too timely.
Austin/Texas connections: Scott Christopherson teaches documentary film at St. Edward's University in Austin.
Peace Officer screens again on Monday, March 16 at 6 pm at the Alamo Drafthouse South Lamar and Friday, March 20 at 1:15 pm at the Topfer Theatre at ZACH.