SXSW Review: Results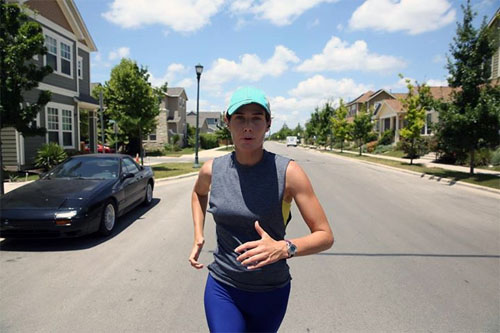 Oh my god, Andrew Bujalski has sold out. The filmmaker with a reputation for populating his indies with non-actors has brought us a film that stars, yes, stars Guy Pearce and Cobie Smulders. I don't think I saw a single indie filmmaker in the cast. And it kind of has a plot! And who knows how much money it cost -- he didn't even need to crowdfund. I mean, really, total sellout.
Except that's not the case at all. Results is very much of a piece with Bujalski's previous films, from Mutual Appreciation to Computer Chess. The Austin writer-director's insightfulness about the minutiae of everyday relationships is front and center. The "stars" play characters who work at a gym -- naturally portraying beautiful people without upsetting the balance of the cast.
Danny (Kevin Corrigan) first appears onscreen after his wife locks him out of their New York apartment. Shortly thereafter, we encounter him in an Austin gym, determined to get into shape for reasons he cannot clearly articulate to the gym's owner, Trevor (Pearce). Trevor assigns Kat (Smulders), a demanding and no-nonsense trainer, to work with Danny at his home. It's obvious Danny would like Kat in his life for more than just teaching him ab exercises, though.
The varying relationships between these three characters form the backbone of Results. Trevor wants to focus on building his "Power 4 Life" brand and philosophy and can't make room in it for Kat, who's unsatisfied by his cool treatment of her. Danny is trying to find his feet in a new city and with an unexpected fortune behind him. When he can't set up his TV and computer equipment, he places a late-night Craigslist ad and pays someone enough to make it work. He doesn't really understand why he can't get anything -- and anyone -- he wants in that way.
The gym setting and training sessions are a smart way to show external manifestations of internal emotions and changes. They also add a physical aspect to what could otherwise have been a visually static story. (I was extremely skeptical of someone's ability to do an unassisted pull-up in that timeframe, though, especially before learning a push-up. Is it a guy thing?)
Results is bright and colorful both in appearance and outlook -- a whole different world from Bujalski's previous film, Computer Chess. It's populated with some terrific comic moments. Giovanni Ribisi, as a lawyer Danny hires, is naturally funny. Anthony Michael Hall has a delightful scene as a kettle-bell video instructor whom Trevor greatly admires. I wish Tishuan Scott (Computer Chess, The Retrieval) had more screen time as a smart-ass trainer -- ditto with local actress Katie Folger, who plays a sorority girl. And Austin filmgoers will especially appreciate a short scene set in a movie theater.
Sellout? Who cares, with a movie as fun as this one.
You can see Results at Dallas International Film Festival later this month [more info]. In addition, Magnolia plans a theatrical release starting May 29, although that date is not confirmed for Austin.
Austin connections: Results was shot in Austin with a local crew and some local cast members. Musician Elizabeth McQueen performs onscreen during the film, and you might catch a glimpse of chef Paul Qui. Former Alamo programmer Zack Carlson appears briefly in a role suited especially for him. Recognizable locations include the Mueller neighborhood, the roof of the Jones Art Center downtown and a theater that from the seats, I suspect is Hogg Auditorium (can someone confirm?). The movie was also shot in Marfa, including El Cosmico. If you are sharp-eyed you might notice that at a couple of points in the movie, the TVs are broadcasting clips from Austin films Saturday Morning Mystery/Massacre (in which Bujalski had a role) and America's Parking Lot (also edited by Robin Schwartz).