Box-Office Alternatives: Dead Again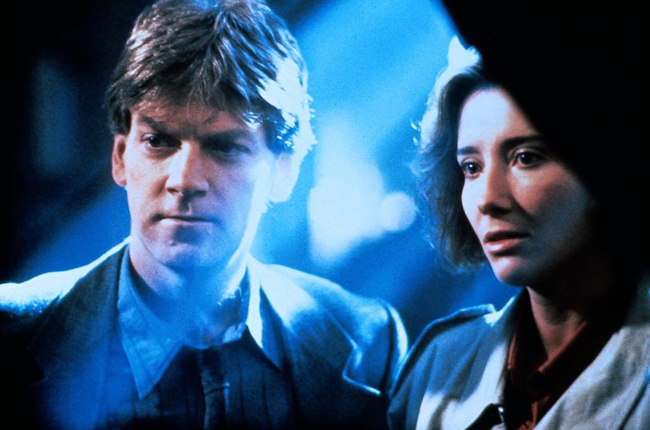 I've always found Kenneth Branagh's directorial career to be one of the most wildly unpredictable and diverse of any filmmaker around. Each project he takes on yields impressive and fascinating results. Who else could successfully pull off the Shakespearean power of Henry V (1989), the heart and terror of Frankenstein (1994), the comedic charm of A Midwinter's Tale (1995) ... and the operatic comic-book action of Thor (2011)?
This week, Branagh adds yet another footnote to an already remarkable directing career with his live-action feature adaptation of the classic fairytale Cinderella (2015), starring Cate Blanchett and Helena Bonham Carter. Knowing Branagh's respectful approach to well-known material, not to mention a collection of positive reviews and solid audience interest, Cinderella will no doubt turn into another cinematic victory for the actor/director.
With the release of Cinderella this week, I couldn't resist the opportunity to write about my favorite Branagh film, Dead Again (1991). Made on the heels of his triumph with Henry V, and released at a time when the early nineties neo-noir genre was at its peak, Branagh directed and starred with then-wife Emma Thompson in this stylish thriller about romance and murder.
In contemporary San Francisco, a private eye named Mike (Branagh) takes on the case of helping an amnesiac called Grace (Thompson), who is searching for her identity. She's haunted by nightmares of a famous pianist named Margaret (also Thompson) from the 1940s, who was murdered by her composer husband Roman (also Branagh). Through hypnosis, Mike and Grace uncover their own haunting connections to Roman and Margaret's past and try to do anything they can to keep history from repeating itself.
It's almost impossible to say this about any film, but Dead Again may well be a movie where virtually every aspect works. Branagh does a great job contrasting the two worlds of the Forties and the Nineties by giving the former a glamorous, nostalgic feel and the latter a contemporary look that also manages to seem timeless.
Maybe it's because of his acting background that Branagh's films have never been subtle, quiet tales, but rather stories that are full of grand theatricality, which somehow manage to avoid becoming overblown. This is certainly true in Dead Again, where the screenplay's carefully constructed momentum builds as the story progresses from a seemingly straightforward tale of an amnesiac, to an increasingly suspenseful dual mystery with twists galore and an ending that borders on Shakespearean.
There's also something compelling about watching Branagh and Thompson not only act opposite each other (always a pleasure), but also take dual roles. Both actors skillfully approach each of their characters with enough differences to make them feel like individuals, but also inject enough similarities to avoid having parts of the story feel like a giant plot device. From an acting standpoint, Dead Again is an actor's dream, but only truly gifted ones such as Branagh and Thompson can actually pull it off.
Dead Again brought in decent tickets sales and a sizeable amount of positive reviews from critics, though its a bit sad that its current reputation isn't as large as it should be. It would be a long while until Branagh returned to the thriller genre with the virtually unnoticed yet deliciously cat-and-mouse tale Sleuth (2007). As a fan of both Dead Again and Branagh, it goes without saying that the thriller genre would have thrived had the director stuck solely to crafting tales of suspense and mystery. But then, the reason Branagh has lasted this long as a director is because he has never limited himself to one specific type of story to tell. Let's hope he never does.
Where to watch: Dead Again is currently available for online streaming via Amazon Instant Video and iTunes. It's also on DVD and you can rent it locally from Vulcan Video North.