SXSW 2015 Shorts Preview: Short But Sweet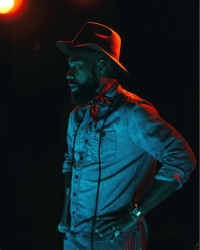 SXSW Film makes international news with A-list stars and big premieres, but some of the best films come in small packages. Eighty-seven short film titles have been announced -- not counting the music videos -- for this year's fest. Here is just a taste of some of the spectacular shorts from the program.
Animated Shorts (screening info)

All Your Favorite Shows!
This is a stunning and seamless blend of animation, live action and millisecond clips and audio from scores of recognizable hit films that looks like it must have taken decades of work to put together. Not just an amazing visual piece, it includes sound design and storytelling of equal quality. This packs more action into 5 minutes than most features manage in 2 hours.
Butter YaSelf
With a tasty treat that reminds us film folk the root of SXSW has always been music, Julian Petschek takes "Peanut Butter Jelly Time" to the heights of its full hip-hop potential. Flashy and funny, this music video sets a catchy beat against vocals and lyrics by Katrina Recto AKA Kat Knoc, Jacob Gibson AKA C.U.B. and DJ Petroleum Jelly.
Documentary Shorts 1 (screening info)

Every Day
ESPN isn't only just football, basketball, and baseball. This documentary directed by Gabe Spitzer tells the amazing story -- in her own words -- of Joy Johnson, who began running marathons after retirement and ran the New York marathon 25 times. An inspirational, beautiful and lasting legacy.
Documentary Shorts 2 (screening info)
The Little Deputy
It's rare to find a documentary that can play equally well as a comedic narrative. Trevor Anderson's autobiographical look back at an afternoon trip to the mall is surprising and adorable. Twenty-nine years in the making, this is a very different perspective on boyhood than we saw in that big film last year.
Midnight Shorts (screening info)

Interesting Ball
It doesn't matter how tired you are, it is worth staying up for the midnight shorts program if only to see Interesting Ball. If Saturday Night Live's "Happy Fun Ball" impregnated Quentin Dupieux's Rubber, this might be the result. The Daniels (co-directors Kwan and Scheinert) may redefine avant-garde filmmaking with this short.
Knock Knock
Jeff Betancourt directs a dark and effective twist on teenage seance pranks. Strong actors, rich cinematography and a lush score all come together to elevate a well-known story beyond the sum of its parts.
Narrative Shorts (screening info)

Guest Room
Austin native and University of Texas alum Joshua Tate directs Glee's Lauren Potter in this very strong story about a young couple with Down Syndrome. Endearing and sweet, Potter demonstrates her range with a character in stark contrast to the brash and brazen role of Becky she plays on TV.
Primrose
While shooting a commercial aside a lake in southern Alaska, Clara Aranovich hatched an idea for this look at male/female relationships and shot it during spare time over a weekend with her friends. One of them just happens to be Nick Thurston, better known as the character Blue Eyes in Dawn of the Planet of the Apes. With the motion-capture and digital magic stripped away, Thurston demonstrates the truth that the actors' performances are entirely essential as he is an ape throughout this lovely and disturbing short.
Room 55
Rose Glass's graduation film from the National Film and Television School, Room 55 won best cinematography at Camerimage 2014. An intriguing exploration of sensuality and the freedom to be found in releasing one's iron grip and placing trust in another. I couldn't help thinking this felt like a chance meeting between Marvel's Agent Peggy Carter and Lars von Trier's Nymphomaniac during a night at the Grand Budapest Hotel.
Texas Shorts (screening info)

Calls to Okies: The Park Grubbs Story (pictured at right)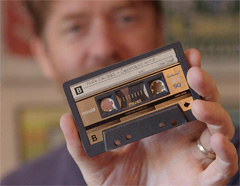 In the early 1980s in the sleepy Oklahoma town of Bartlesville, a group of teenagers amused themselves making prank phonecalls and recording them to cassette tapes ... years before radio personalities like Roy D Mercer or the Jerky Boys. Mostly performed by ringleader Park Grubbs, copies of the recordings spread across the nation claiming among their fans such notables as The Flaming Lips. More than 30 years later, Austin filmmakers Bradley Beesley (Okie Noodling, Sweethearts of the Prison Rodeo) and Ben Steinbauer (Winnebago Man) meet the members of that group and some of the recipients of their calls.
Melville
Diagnosed with cancer, retired freestyle poet Marcus Melville spends a day confronted by reminders and collecting his thoughts before fighting the disease the only way he knows how, with a final comeback performance. DFW-area writer/director James M. Johnston (producer on Listen Up Philip, Ain't Them Bodies Saints) turns the five stages of grief on their heads, skipping bargaining and acceptance and replacing them with powerful defiance. Rodney Lucas's performance is complemented by the extraordinary talents of Tyler native Phyllis Cicero.
Squirrel
A contemplative and dark look at a young girl's sexual awakening, Squirrel is a beautiful but disquieting look at an ugly subject.
Woman of the World
Written and directed by Allison Cook, Woman of the World stars Anna Margaret Hollyman (Gayby) as a suburban photographer and mother looking back with some regret on her bygone days. An encounter at a party leads her to realize her life is not so bad, and her motherly skills come in handy in unlikely places. Johnny Mars' nuanced performance prompted me to watch again as I try to grasp the depths of meaning. The cast also includes Austin actor Byron Brown.
Texas High School Shorts (screening info)

High school kids just aren't supposed to make films this good. The shorts I had a chance to screen from the Texas High School Shorts program could all compete strongly with adult-made films, even without their own category. I'll be keeping my eyes peeled for future works from these exceptionally talented young filmmakers.
Greg the Magnificent
Umar Qadeer and Nick Chaviers directed this tight script about a bullied high-school magician who doesn't know his own power. Fears of rejection, failure, stage fright, performance anxiety are all demons commonly faced by young people who are ill-prepared to do anything about it.
KERS
Alexia Salingaros has TWO shorts in this year's program. Her documentary KERS offers insight into the mind of a young female and extremely talented graffiti artist. Salingaros demonstrates phenomenal talent with a beautifully shot documentary that tells an interesting story, set to a gorgeous professional-sounding score she wrote and produced herself.
Luminosity
The second of Alexia Salingaros' two Texas High-School Shorts, Luminosity is a surreal stop-motion animated fantasy. Like her doc KERS, it tells a good story and features another original score composed by Salingaros.
The Passion of the Mime
Directed by William Hoinoski, The Passion of the Mime is clever and original noir piece that features the remarkable acting talents of Morgan Young, Austin Brooks, Ryland Kaiser and Emily Braun -- and a very funny script.
Turtle: A Super 8 Short Film
While everyone is shooting digitally these days, it's nice to see a young filmmaker working in a classic medium. Some ineffable quality of this silent narrative by Cameron Fisher reminded me of early films from Tobe Hooper and Richard Linklater.
[Photo credit: Melville, courtesy of Red Productions]