Austin at SXSW 2015: Katie Cokinos Tells a Female Coming-of-Age Story in 'I Dream Too Much'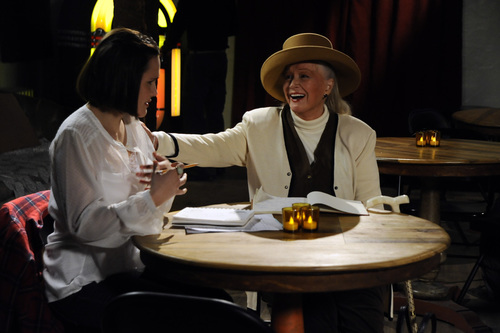 Director Katie Cokinos brings her feature film I Dream Too Much to SXSW next week. Cokinos, a former Managing Director for Austin Film Society, also wrote the movie about Dora, a recent college grad dealing with a life in flux.
The cast of I Dream Too Much includes such talent as Diane Ladd and Danielle Brooks (Orange Is the New Black) along with the newer face of Eden Brolin, who plays Dora. Austin filmmaker Richard Linklater is executive producer of this movie shot in snowy Saugerties, New York, where Cokinos lives now. She answered some questions for us (via email).
Slackerwood: What inspired the story for I Dream Too Much?
Katie Cokinos: The inspiration for IDTM was my own painful memories of graduating college and not knowing what the hell to do with my life -- but knowing I loved movies. The world seemed huge and I didn't know how to put my passion to use; my life felt like a big unknown. I also had a lot of family pressure to go to law school and I almost did (but it's not a good idea to make a decision based on fear).
I am drawn to characters that are going through transitions and I realized that there are few coming-of-age films with a female protagonist. Early in my writing process, the main character said, "I dream too much" -- I was sold.
How did Diane Ladd get involved in the film? What was the rest of the casting process like?
Cokinos: Reflecting back on the last two years, from writing to raising money to pre/production to the edit -- the least stressful component was casting and that was due in large part to Judy Henderson, our casting director. Upon our first meeting with Judy, she immediately saw Diane Ladd as Aunt Vera.
We sent Diane the script and she responded to the story and felt a connection with Vera because Diane, like Vera, is a writer. This was my first time to work with a casting director and I thoroughly enjoyed it. It helped my writing to hear a myriad of actresses and actors read lines from the script. Each night I would come home happily exhausted and immediately rewrite based on what I heard that day. Great experience -- can't wait to do it all over again!

What are your thoughts on the importance of women's voices and stories in film?
Cokinos: Cinema is just over 100 years old and some of the early pioneers were WOMEN (please see the documentary Without Lying Down: Frances Marion and the Power of Women in Hollywood). Frances Marion was a prolific screenwriter and she worked with Mary Pickford to bring female-driven stories to audiences. (Mary Pickford was/is still the biggest female star to come out of Hollywood.)
Anyway, my point is that women's voices and stories have always been there – let's keep it going with more women directors and writers. Film is such a baby compared to other art forms like the novel, painting, music etc. Let's be ambitious!
Are there any past haunts in Austin you're looking forward to visiting while here for SXSW?
Cokinos: Liberty Lunch -- ha, I know it's gone -- scones at Sweetish Hill Bakery, Goodwill on South Lamar, walk around Town Lake (it's still there I hope), coffee at Little City on Congress [ed. note: sadly, Little City is no more], dancing at Continental Club, browsing at Waterloo, the beautiful Paramount Theater, the haunted Driskill Hotel, Magnolia Café at 2 am (the one on South Congress) . . . okay, now I'm missing Austin too much -- gotta stop.
Anything else you'd like to add?
Cokinos: I didn't go to film school. The Austin Film Society was my film school.


I Dream Too Much screens as part of the Narrative Spotlight programming: Monday 3/16 at Topfer Theatre at ZACH, Tuesday 3/17 at the Marchesa and Friday 3/20 at the Topfer Theatre again. [more info]