Review: Cinderella
In director Kenneth Branagh's hands, the movie Cinderella is an uninspired retelling of the famous folktale accompanied by sumptuous set design and lush, technicolor costuming. From the Renoir-inspired setting of the opening scene to the disappointing finale, the film is pretty to look at but empty of any real depth or feeling.
Young Cinderella (Lily James, Downton Abbey) is born to an adoring, yet soon ailing mother (Hayley Atwell, Agent Carter). Her father, played by an unrecognizable Ben Chaplin (The Truth About Cats & Dogs), is a mercer, I think? After her mother's death, he marries brusque widow Lady Tremaine (Cate Blanchett, wasted in this role but absolutely pulling off some amazing outfits).
As in the animated Disney original, Cinderella talks to animals. Mice and lizards in this movie are digitized out the wazoo, which is funny yet off-putting. Her stepmother has a cat named Lucifer. Her stepsisters are named Anastasia (Holiday Grainger, Jane Eyre) and Drizella (Sophie McShera, also from Downton Abbey).
It is striking that so much of the original storyline remains a part of our leading lady's story, whereas the Prince's story is so changed. Now Prince Kit (in the words of the press screening notice: "Richard Madden aka HOTNESS," Game of Thrones) has a sick father (Derek Jacobi, bringing as much gravitas to the film as he can) and a scheming Grand Duke (Stellan Skarsgård, Mamma Mia).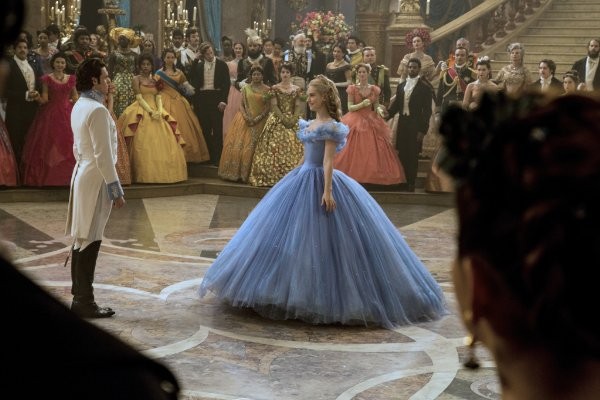 It is hard not to wonder how the film might have improved if the screenplay had been written by a woman. Chris Weitz (About a Boy) writes Cinderella as a girl who lives by the much repeated motto, "Have courage and be kind." Seriously, this phrase is said about 12 times in the movie.
But she's not courageous enough to speak her mind to her stepmother or go out and find a position as a governess (or something like). She remains in her house because her mother and father loved it so. She helps around the house because she is "kind"; "kind" in this movie means making pleasant conversation with people and animals and cleaning up after family. Cinderella is more of a 19th-century archetype of female virtue than a real woman. If she were Kate Winslet in The Holiday, Eli Wallach would tell her she lacks gumption.
At one point during the film, when I wasn't making subtle "wrap it up" hand signals during scenes begging for better editing or quietly groaning at the tedious writing (my sincere apologies to the man sitting next to me), I confessed to my friend that I would rather be watching Ever After. She nodded, whispering in reply, "It's better."
In happier news, Frozen Fever, the short which plays before Cinderella, is a wonderful semi-sequel to the hit animated musical. Elsa (Idina Menzel) sings a new song from the Oscar-winning duo of Kristen Anderson-Lopez and Robert Lopez. It's Anna's birthday, and although Elsa isn't feeling quite herself, she wants to celebrate her sister and make up for past absence. The whole team is back -- there's even a silly surprise cameo near the end. Frozen's sense of humor definitely returns in this short.