Review: Hot Tub Time Machine 2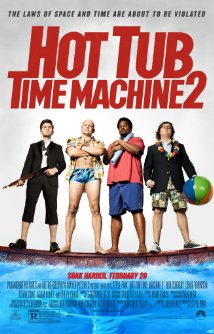 The phrase "Hot Tub Time Machine" was such an insane concept I couldn't wait to see the 2010 release. (Debbie's review) Sure, it was a fratboy movie, but it was fresh and edgy at a time when the nation was just learning to laugh again a decade after 9/11, and I loved it. Five years was a long time to wait with such anticipation for this sequel.
Hot Tub Time Machine 2 is a wet hot mess, with bad jokes as frequent as jacuzzi bubbles, and good jokes popping like farts in a tub. It has the same writer (Josh Heald), the same director (Steve Pink) and largely the same cast (John Cusack is replaced by Adam Scott), but it failed to capture the same magic for me. I can't say I hated it, but somehow it felt ... different, like I was watching an elaborately extended Super Bowl commercial.
The original movie was tight, with a relatively narrow scope, but this one felt like Seth MacFarlane had an advising role on set. The characters are not just juvenile and drug-addled. They are absolutely moronic. In particular, Hot Tub Time Machine 2 suffers from too much Rob Corddry, way too much, physically speaking. I don't know if the man deserves recognition for being willing to go so far for a laugh or instead pity for being the guy who will go that far.
The story concerns the fate of the original characters, now returned to a weirdly altered timeline in which they have lived out their lives with future knowledge becoming rich and famous by pre-plagiarizing hit songs and founding their own version of Google. When Lou (Corddry) is shot by an unknown assailant, the group of friends must use the hot tub to again travel back to the past to fix the future. Hmmm.
There really are a number of good gags, and Adam Scott has great chemistry with Craig Robinson, Clark Duke and Corddry, better chemistry in fact than Cusack. Chevy Chase is a bright spot for the moment he's there. His appearance feels as if much more of it was left on the cutting-room floor. (Between Chase, Scott, Corddry and Gillian Jacobs, this was practically a Community/Parks & Recreation crossover.) The real heroes of this film are the digital artists, costumers and set designers who designed and executed a really insane version of the present and a far-out version of the near future.
Any quibbles, however, are easily forgotten, as Hot Tub Time Machine 2 is a mere 93 minutes in length. It knows not to overstay its welcome. This film will become a late-night guilty pleasure, one that I won't talk about the next morning.