Lost in the Awards Rush: Two Lovers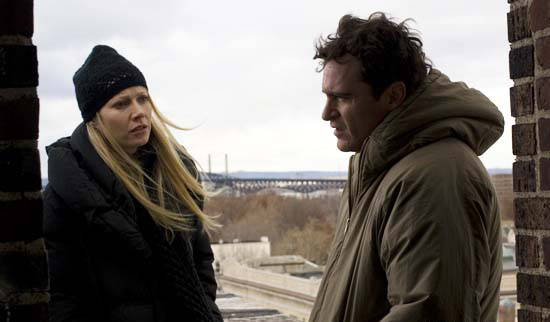 "Lost in the Awards Rush" is a weekly series Slackerwood is running during the awards season, to suggest lesser-known but excellent alternatives to popular frontrunners for big movie awards.
Many authors and their works have been deemed as unfilmable by Hollywood because of unorthodox plots and characters that defy conventionality to great extremes. Nowhere is this more evident than with the works of Thomas Pynchon. The revered author may be the godfather of the postmodern detective, yet due to a number of dizzying elements within his books, none of Pynchon's works ever received the big-screen treatment. Enter Paul Thomas Anderson, who after securing Pynchon's blessing, brought Inherent Vice, one of the author's most acclaimed novels, to the screen. The 60s-set tale of a hippie private eye (Joaquin Phoenix) who takes on a bizarre missing persons case was heralded as one of the year's best comedies and earned Anderson a Best Adapted Screenplay Oscar nomination.
While it's certainly a marvel how a seemingly unfilmable novel made such a dynamic transition to the screen, its a true shame that Phoenix's work as Doc, the oftentimes stoned detective, has been all but forgotten this awards season. The three-time Oscar nominee can already claim a laundry list of performances that reach levels of characterization other actors can only dream of. Though its a definite 180 from his work in Inherent Vice, Phoenix's work in the small independent drama Two Lovers (2008) is probably his most complex and poetic turn to date.
Two Lovers opens with a man named Leonard (Phoenix) who, after being left by his fiance and attempting suicide, has moved back into his parents' Brighton Beach apartment and works for his father at the family dry-cleaning business. After months of living in a depressive state, Leonard has an encounter with new neighbor Michelle (Gwyneth Paltrow), a legal assistant with a slightly troubled life, whom he instantly falls for. At the same time, he is introduced to Sandra (Vinessa Shaw), the sensitive daughter of a businessman entering into a merger with Leonard's father. As his feelings for both girls intensifies, Leonard wrestles with trying to decide what he wants and who he is truly meant to be with.
Written and directed by James Gray, Two Lovers could have been rather easily dismissed. The idea of a man romancing two women at the same time would garner no sympathy under normal circumstances. The male protagonist would be seen as a self-serving cad with no deep feelings or genuine romantic intent. Yet Gray has written a character so full of pain and anguish that it's impossible not to feel both pity and understanding to his dilemma.
In a dialogue-sparse role, Phoenix paints the wounded Leonard as a man intent on giving up on life, yet still going through the motions of an isolated existence. He's lost what he valued most and now struggles to find any reason to continue living. His relationship with Michelle, the desperately unhappy pill-popping mistress of a high-powered New York lawyer, begins with curiosity and grows when Leonard feels like he can save her simply because he knows her pain. Paltrow, incidentally, once again proves naysayers wrong with a performance full of rawness and vulnerability. In her hands, Michelle's pain and regret as a lost soul searching for fulfillment under a disguise of a well-balanced woman, is fascinating to watch.
By contrast, Sandra's presence in Leonard's life represents the kind of love that betrayed him in the past and while he is drawn to Sandra, he is also frightened by her and the kind of life she represents for him. Is Leonard well enough and brave enough to enter into a romance and future with Sandra, or is the shared bond of pain that has turned both him and Michelle into damaged people reason enough to pursue the latter? Gray beautifully lays out Leonard's inner conflicts in perfectly subtle ways. There are no shocks or surprises in Two Lovers. Instead, there is a complex love story full of genuine human complexity told through great writing, passionate music and honest performances.
If Two Lovers bypassed many people's indie movie radar, it may be because the film had the extremely bad luck of being released in the midst of Phoenix's I'm Still Here (2010) production. The actor's high-profile piece of performance art greatly overshadowed what could have been one of the breakthrough indies of the year as evidenced by the praise critics bestowed on Phoenix, Paltrow (who earned an Indie Spirit nom) and the film itself, named one of the top 10 by the National Board of Review. However, sometimes films aren't meant to make as big a splash as some would hope. Perhaps some, such as Two Lovers, are meant to connect with only a handful of people who recognize their quiet beauty, flawed characters and telling perspectives on life.
Where to watch: Two Lovers is currently available for online streaming via Amazon Instant Video and iTunes. It's also on DVD and you can rent it locally from Vulcan Video.