Review: Kingsman: The Secret Service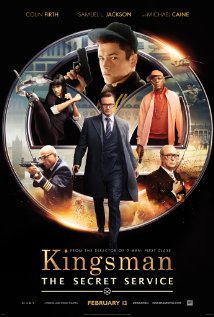 Filmmaker Matthew Vaughn's already well-established catalog (X-Men: First Class, Kick-Ass) gains a new entry this week with the release of his comedy spy adventure and arguably best film to date, Kingsman: The Secret Service. This James Bond meets Attack the Block romp was scripted by Vaughn and frequent collaborator Jane Goldman, and is based on the comic The Secret Service by Mark Millar and Dave Gibbons.
Taron Egerton stars as Eggsy, a study in wasted potential due to bad influences and an unsteady home environment who's recruited to a secret organization of upper-crust spies by Harry Hart, aka Galahad (Colin Firth). Only one recruit can complete the training, and Eggsy is at a disadvantage competing with his well-heeled rivals. This theme of class warfare is reflected in the larger story as quirky internet billionaire Valentine (Samuel L. Jackson) carries out an evil world-wide plot that the Kingsmen must foil.
Let's talk about Jackson for a minute. He is prolific, to say the least, and diverse, but his character Valentine is something entirely, hilariously different, with a comical lisp and vague OCD tendencies. The character is something of a clothes horse, always sporting stylish threads but wearing the same leather baseball hat in different colors to match his outfit. Valentine is an obsessive movie buff and as much a product of pop culture as a shaper of it. He rationalizes his twisted views with grade-school logic, and he's at once the most unique and memorable character Jackson has ever brought to life.
Jackson isn't the only character playing against type. Mark Strong, usually at home as the villain, appears here as Merlin, the technical expert. Firth, however, is as usual the perfect, polished English gentleman. The picture of refinement and class, he explains to Eggsy the origins of the Kingsmen among the elite tailors of London and the virtues of manners and a bespoke suit.
Kingsman: The Secret Service is exactly what you have come to expect from Vaughn. He cleverly riffs on spy films with satire, not spoof, delivering a continuous stream of laughter on top of an action story you can really sink your teeth into. I loved little throwaway lines like the mention of a shoe phone that call back to other spy properties, and spectacular fight choreography and effects lead to an explosive climax that is more over-the-top than anything Vaughn has done in his career.
Dare I say it? Bespoke bests Bond. Kingsman: The Secret Service may be a perfect film. It represents Vaughn at the top of his game and is the movie to see this weekend.