Ready, Set, Fund: Show These Local Film Projects Some Love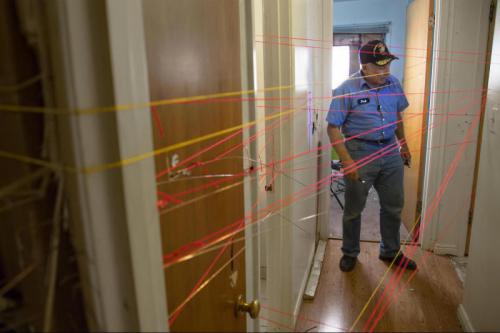 Ready, Set, Fund is a column about crowdfunding and fundraising endeavors related to Austin and Texas independent film projects.
Valentine's Day has come and gone, but it's never a bad time to shower up-and-coming filmmakers with a little attention. The film projects included in this month's roundup deal with family strife, community safety, horror and world travel. If you're feeling generous, feel free to donate to whichever ones appeal to your movie-loving heart.
Leading off is a film that sounds pretty timely in terms of content and will be premiering at this year's SXSW in the Documentary Feature Competition. Peace Officer (pictured above) examines officer-involved shootings in one community and questions when (or maybe whether) law enforcement officers have the right to use deadly force. Directed by Scott Christopherson (an Assistant Professor of Documentary Film at St. Edward's University) and Brad Barber, Peace Officer is collecting funds to help with distribution and various other expenses through Kickstarter until March 7.
This one's for all the wonderful film weirdos out there. Directed by James Bryan and featuring his longtime collaborator Renee Harmon, Jungle Trap is a 1990 shot-on-video horror film that only exists in "very raw form." The Kickstarter to restore and improve the film has already reached its fundraising goal of $3,000, but feel free to give it a little more love.
The creative team behind Swimming with Byron includes three St. Edward's University grads and a current St. Edward's professor. This documentary asks the intriguing question, "Were the Romantics the first backpackers?" and examines the role geography played in the lives of people like Lord Byron and William Wordsworth by following in their footsteps. Director Christopher Flynn has been working on this project for over 10 years and is currently raising money via Kickstarter to cover the costs of filming in France, Switzerland and London. Give here before March 15 if you want to see this historical travel diary come to life.
Deliver Me From Glory
, a film set in East Texas, tells the story of two estranged brothers still recovering from the terrible actions of their father years ago. The creators are currently seeking funds to make a proof-of-concept trailer, and the Indiegogo campaign is open through March 6. This is an Austin Film Society partner project and it's written and directed by
Jeff Ray
(
Where the Red Fox Lies
).
Have a project that you would like to be considered for an upcoming Ready, Set, Fund feature?
Contact us
with the subject line "Ready, Set, Fund."