Lone Star Cinema: The Rookie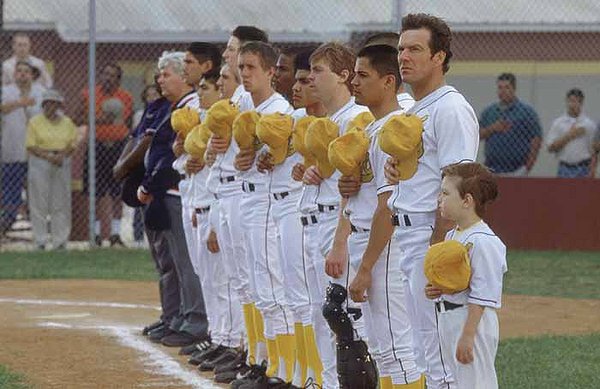 My alternate Super Bowl programming this year was a DVD of The Rookie I checked out from the library. I had first seen the baseball drama closer to its original theatrical release in 2002 and remembered enjoying the story, but hadn't really thought of the Disney film in the past ten years.
Dennis Quaid (Frequency, The Day After Tomorrow) leads the movie based on the true story of Jimmy Morris, a Texas high-school baseball coach who makes a deal with his team that he will try out for the major leagues if they win district and go on to state. Rachel Griffiths (Muriel's Wedding) plays his wife Lorri, the school counselor. I had forgotten that before he started the sitcom mega-hit Two and a Half Men, Angus T. Jones played the adorable son here. See how young he is in the still posted above.
We are shown the origins of the strained relationship between adult son Jimmy and his father Jim Morris Sr. (Brian Cox, only about seven years older than Quaid). It feels like this is something that might have been compounded more in the screenplay than in real life. Still, it is an interesting contrast to the relationship Jimmy has with his own young son, who helps in team practices and is almost a little shadow to his dad.
On a day his wife is working, Jimmy tows his kids to his tryout. The movie plays the sequence up for laughs, having Jimmy talk to a scout while holding a dirty diaper in one hand. But this nicely illustrates the kind of partnership he and Lorri have, and how difficult it will be when he eventually is separated from his family while on the road.
The film uses the seemingly requisite slo-mo that sports films so depend on, even as Morris throws accelerated pitches. Montage sequences are also frequently used in The Rookie, paired with a soundtrack that reminds one of the music KGSR used to play once upon a time. There's a definite sense of time and place here, and the film leans towards sentimental but never goes all out sappy.
In director John Lee Hancock's hands, The Rookie plays like a typical sports movie with some added quirkiness. The original story material is strange enough in its own way -- it's crazy to think that in the youth-obsessed world of sports a man in his mid-thirties (Quaid was in his late 40s, playing a 35-year-old Morris) would be able to start a major league baseball career… albeit a short one.
Austin/Texas connections: Both Quaid and director Hancock are native Texans. The movie was filmed in and around the Austin area, as well as The Ballpark in Arlington.