Lost in the Awards Rush: The Prize Winner of Defiance, Ohio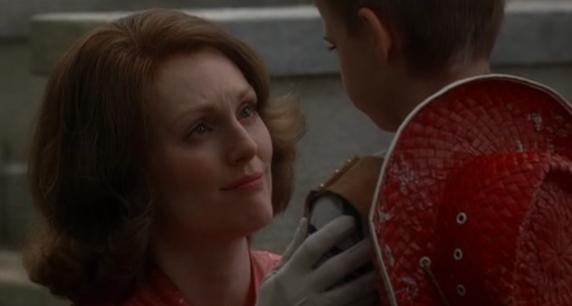 "Lost in the Awards Rush" is a new weekly series Slackerwood is running during the awards season, to suggest lesser-known but excellent alternatives to popular frontrunners for big movie awards.
I once heard Julianne Moore reveal in an interview that in selecting projects, she finds herself naturally drawn to playing weak and damaged characters. If you stop and think about it, that really isn't surprising given how much emotional exploration it gives an actress, and with as impeccable a career as she's had, clearly this preference has served Moore well. It's with a slight irony then that she has been pegged as the frontrunner of this year's Best Actress Oscar race for Still Alice (2014), in which she plays a linguistics professor diagnosed with Alzheimer's disease. It is one of Moore's bravest and most resilient characters as well as her strongest role to date.
Still Alice may feature Moore playing against type in a sense by having her portray a character overcoming one of life's greatest obstacles, but this is certainly not her first time playing a woman like Alice. The actress's compelling and almost magical turn as a midwestern housewife in The Prize Winner of Defiance, Ohio (2005) features Moore playing a woman of strength and determination in what may be her finest performance.
Based on her daughter's memoir, The Prize Winner of Defiance, Ohio is the true story of Evelyn Ryan, a wife and mother who, as the film's tagline states, raised ten kids on 25 words or less. In the era of product-sponsored contests, which dealt mainly with the writing of jingles and slogans, Evelyn's natural ability to turn a phrase won her prize after prize including cash, cars and vacations, all of which she put towards her family's well-being. Writer/director Jane Anderson's adaptation of Evelyn's life wonderfully mixes comedy and light fantasy against the harder aspects of Evelyn's life, such as lean money times and the struggles with her loving but alcoholic husband Kelly (Woody Harrelson).
If contemporary audiences are quick to dismiss Evelyn as simply another product of Fifties male oppression, there's no denying either her quiet dignity, which Moore manages effortlessly, nor her unique blend of optimism and practicality. After an episode where a drunken Kelly has thrown a fit before being calmed down by his wife, Evelyn turns to her shaken young son and with a loving smile says, "Let's go to bed. I'm tired of this day. I need a new one."
An enchanting whimsy throughout the movie is heightened with fantasy-like sequences in which Evelyn breaks the fourth wall. These elements might pause the story, but they are so well done that it doesn't really matter. In fact, a lot of Evelyn's day-to-day life is so much of a struggle in one form or another that scenes of such relief are welcome. Throughout it all, Moore is continuously glowing and heartbreaking as she shuffles between Evelyn's inner worries and the bright hope she passes onto her children. This is a film that reminds its audiences of the sacrifices, both great and small, that mothers make to ensure their family's everyday existence.
The Prize Winner of Defiance, Ohio is also a picture of a marriage that endured despite its flaws and the overall pressures of the era. As Moore's primary acting partner, Harrelson is outstanding in his role as Kelly Ryan who, thanks to an injury which damaged his vocal chords, gave up his ambitions as a singer for the life of a factory worker. This is a man whose passion was taken from him and who has found himself married to a talented woman he loves, yet feels overshadowed by. As Evelyn so lovingly puts it: "Please don't hate my husband. He lost his voice, while I kept mine."
There's very little doubt (in my mind anyhow) that The Prize Winner of Defiance, Ohio could have carried Moore all the way to an Oscar victory in what was otherwise a lackluster year for actresses. However, the reason behind her lack of recognition that year, as well as the film's meager box-office performance, was that virtually no one saw it. Even though it had a well-known leading lady, decent reviews and a major studio behind its release, The Prize Winner of Defiance, Ohio, for whatever reason, never played theaters outside its NY and LA run. It's always a shame when films that uncover the extraordinary within the everyday don't find their audience. Yet even if its just within the confines of this column, Moore's stunning work and Evelyn's touching story are given their rightful applause.
Where to watch: The Prize Winner of Defiance, Ohio is currently available for online streaming via Amazon Instant Video and iTunes. It's also on DVD and you can rent it locally from Vulcan Video.