Slamdance 2015: Festival Director Anna Germanidi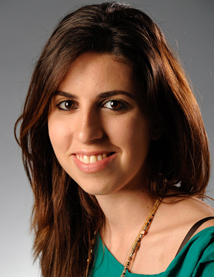 Last spring Slamdance announced that co-founder Peter Baxter was turning over the reins of Festival Director to Anna Germanidi, who had served as festival manager since 2012. Baxter remains the president of the organization and also has oversight on Slamdance's distribution.
Germanidi received a bachelors degree in economics from the University of Piraeus as well as a filmmaking certificate from the London Film Academy, followed by a masters in television, radio and film from Syracuse University in 2011. She then joined Slamdance as a submissions and programming intern, and within six months became the programming and filmmaker relations manager.
Germanidi's diverse background, which includes production on several short films (Kiosk, Téa, To Be Discontinued), bolsters her new position, with new additions to this year's Slamdance. This year the film festival featured "Fearless Filmmaking: Art on Your Own Terms," a block of micro-shorts that were shot on Digital Bolex's D16 cameras. The micro-shorts were judged by Amber Benson (Buffy the Vampire Slayer), filmmaker and former Austinite Todd Berger (It's a Disaster), and other Slamdance alumni.
I met with Germanidi during this year's festival, and we spoke about her new role and the growth of Slamdance Film Festival.
Slackerwood: What's it like to experience the festival as its director?
Germanidi: Familiar and wonderful but hectic -- it's a very interesting experience. We have a great team and I've been involved for awhile. I had take the lead this year and learn more about how to produce this festival. I had a very close relationship with the producer, so I had to learn how to actually put together the event.
How is it different from your past experience?
Germanidi: The production aspect is a very unique one since we are based in LA. We have to pack our bags and the whole office and move to a different place for two weeks. A different place that has different roles. It's always challenging to learn everything that comes with it -- the permits, putting together events, having to do opening-night parties.
I worked with our artist this year, Steve Gerard, to make this amazing artwork and trailers. I was amazed by what he created, it's really a piece of art. That was something that Peter [Baxter] really wanted me to have an experience of how he did it all these years. I'm so glad that I did because I love working with artists, and it's been great -- the results are amazing.
It seems like attendance numbers are up this year, with sold-out screenings.
Germanidi: We always sell only half the tickets online before Slamdance starts. That's because we want to make sure that the passholders will get tickets when they come here to pick up their badges, and locals as well will have the opportunity to experience Slamdance.

This year we did have an increase which is amazing and we are very happy that we are heard more and more. We've had many sold-out screenings. The good thing with Slamdance is that you always somehow manage to get in. Even if you come last minute, you'll still find a ticket if you are passionate and you come. The rush line for us always goes in. It's kind of amazing how it always happens, but it's very easy to watch movies if you want to watch movies.
That's what I love about it, because I'm an audience at other festivals, and I'm a film lover and I love going to other festivals, festivals are my passion. It is very important for me to keep making it easy for people to attend.
Can you talk about the standouts from this year's programming?
Germanidi: Batkid Begins: The Wish Heard Around the World was an obvious one because of the subject matter and how this touched so many people in the San Francisco community. People really responded very well and they were very passionate about this film and it's been doing very well.
I'm glad to see -- since I'm a foreigner myself -- more foreign films getting more and more attention. One documentary that's playing is Concrete Love: The Boehm Family, and it has been doing so well. It's a very touching story about one of Germany's biggest architects. The filmmaker flew over here for 48 hours, and so it's been a trip for him and for us. People are loving this one as well.
Across the Sea is a film that audiences have really loved so far from what I've heard, and Bloodsucking Bastards did very well. I think that they are all getting a lot of love. I'm very happy to see that, to see different audiences responding differently to other films. At Slamdance it's so easy to tell, because people are in a very small place and you can hear everyone's opinions all the time.
I'm really happy that people are finding the films that they like, the genre they like. Because we have very diverse programming, you can find horror films, love stories, great documentaries. I think that if you go through the programming you can definitely find something that fits you.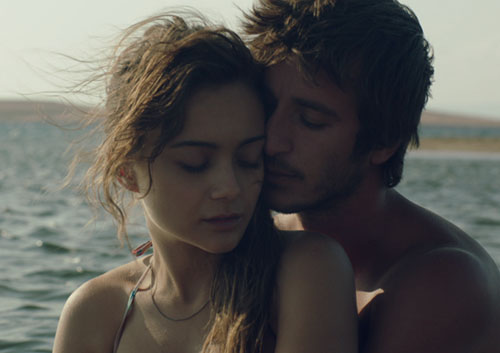 What about the female perspective and the women represented in Slamdance programming?
Germanidi: We've had some great narrative features by female directors -- Tired Moonlight, the foreign film High Performance, and Across the Sea. We've had some really great female filmmakers coming to Slamdance.
Something that we were talking about recently was that this year we've seen many female subjects as well. Not necessarily made by female directors, but it just feels like the industry wants to put those female stories out there which I believe is also very important. Of course I wold love to see more female directors represented and go up the ranks. I do feel that collectively the industry is trying to push these female stories more and more and I am really happy to see that.
What about the future of Slamdance with so much growth?
Germanidi: I think it's a challenge to keep your identity intact when something like that happens. Because the team is so small, and we are all very passionate that we want to keep this community and this family. We want to keep being in a small place. The fact that we are growing can be challenging sometimes -- for example, we don't all fit in a reception or party -- but at the same time, we all know that the weekend is very crazy, and then it slows down. I think that people understand though that if you can't see something during the weekend, that's why we show everything again during the week.
I think we compromise making sure that the scheduling is right, making sure that we still keep our identity and the Slamdance spirit is intact. I think that we are going to continue to keep this close community.
Is there anything else you would like to share about Slamdance Film Festival?
Germanidi: I would like to mention how unique our programming process is, because many people are not aware how our submissions work and how our programming gets selected. The fact that we only accept films through blind submissions. We don't invite films -- nobody gets in because they know somebody.
I think that it is really important for filmmakers to know that there are still festivals out there that are very fair, and that Slamdance doesn't think that because you are a filmmaker, that you have to have connections. That's not necessary for us. We understand that for filmmakers who are just starting their careers, they won't have those connections.
It is something very important for Slamdance and for me personally to spread the word and make sure that filmmakers understand it's a very fair process, and all our programmers are filmmakers themselves.
When they submit to Slamdance, they know that they are going to get watched and nothing will fall through the cracks. Everyone that sees the film will be very passionate about what they do, because as filmmakers themselves they understand the process. When they watch the film they want to treat the film in the way that they want their film to be treated by other festivals -- this is a very important message.
[Photo and image credits: "Anna Germanidi," "Slamdance 2015 Logo" and "Across the Sea still photo" courtesy of Slamdance.]