Beautifully Strange: OUTsider Festival 2015 Preview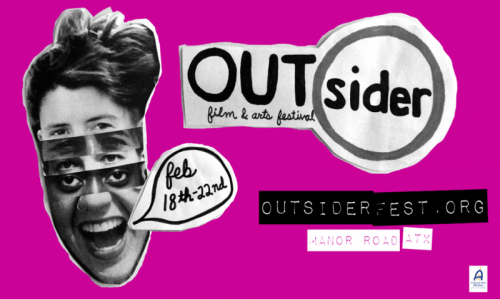 Austin has no shortage of arts festivals, but that doesn't mean there isn't room for one more -- especially one that brings a level of depth and differentness not captured by the others. In just a few days, the very first OUTsider Festival will begin, and based on the lineup and creative people involved, attendees can expect something refreshing, entertaining and enriching.
We asked OUTsider Festival Artistic Director Curran Nault to give us an overview of the five-day LGBTQIA event, which will include several films along with panels, live performances, parties and more. OUTsider runs from Feb. 18-22 in a number of central Austin venues.
Slackerwood: In a few quick words, how would you describe OUTsider Festival and how did its existence come about?
Curran Nault: OUTsider is a queer multi-arts festival. OUTsider brings together artists, academics and audiences across their differences and disciplinary boundaries. OUTsider defies the limits of traditional festival models in order to create a sense of wonderment through new artistic experiences, collaborations and conversations. OUTsider makes room for the marginalized, the misfit, and the outcast. OUTsider values dialogue and community.
OUTsider is the brainchild of a group of seasoned artists and festival organizers who talked so much about the kind of festival they always wished existed -- cross-disciplinary, actively involving, conversation-and community-driven, beautifully strange and strangely beautiful -- that they decided to actually build it.
What made you decide to include films in the lineup, and how did you go about programming your selections?
My background is in film -- I have a PhD in Film Studies from UT, and have been a film festival programmer since 2007 (at the Austin Asian American Film Festival and for two years, at aGLIFF). Film is one of my greatest loves and passions. So, it was never a question of whether or not to include film, but rather how to breathe new life into conventional film programming: How to create the same unexpected magic in the exhibition space that filmmakers are putting onscreen.
As for my film programming selections, I tried to stay true to OUTsider's mission. So, there is an emphasis on work that's multimedia (or that, in some way, speaks to other artistic and cultural forms), and work that embraces individuals and identities that are marginalized in the mainstream, including the LGBT mainstream. Much of the work in the festival is by and/or about queers of color, transfolk, genderqueers, the differently abled and outsiders more generally.
What particular films are you most excited about?
Tough question! In The Turn -- which follows a 9-year-old transgender girl from small-town ostracization to big-time empowerment, with the love and encouragement of some roller girls -- is one of the most emotionally powerful documentaries I've seen in years. Drunktown's Finest -- a multi-character story about life on the contemporary Navajo reservation -- is one of my favorite films from Sundance and features a standout performance by novice transgender actress Carmen Moore. Angmo and Amoi is a hilarious mockumentary from Malaysia that I saw at the first-ever QC Pink Film Festival in the Philippines and am really excited to bring to Austin as a US Premiere!
The lineup seems to encompass all kinds of storytelling and visual experiences -- what other events do you recommend to people interested in film?
In addition to the feature films mentioned above, there will be all sorts of one-of-a-kind filmgoing experiences -- from Jonesy's Rose Savage Rose Wolf, which mixes cinema and live dance, to Clement Goldberg's "fragments," an animated film which will feature live narration, to the spectacular multimedia performances of Narcissister and Shane Shane, to a retrospective of video art by Zackary Drucker (Transparent).
What general advice do you have for people planning to attend the festival, practical or otherwise?
The festival is intended to be a space of artistic discovery and bold adventure. Come ready for something new. Come ready to frolic. Come ready for reflection. Come ready to be part of queer creative her-story... Oh, and come early, as shows are likely to sell out. :)


Other films and film events at the fest include I Feel Like Disco, Sins Invalid, Queer Rebels: Ancient Future, Until Now: Zackary Drucker Retrospective, Queer Youth Showcase and Rise Above: Tribe 8.
Badges for OUTsider Festival are available here, and individual tickets will also be for sale at each event (if space is available). Take a look at the festival FAQ page for answers to any other questions you may have about attending, and follow OUTsider Fest on Facebook for late-breaking updates and helpful tips.