Review: Amira & Sam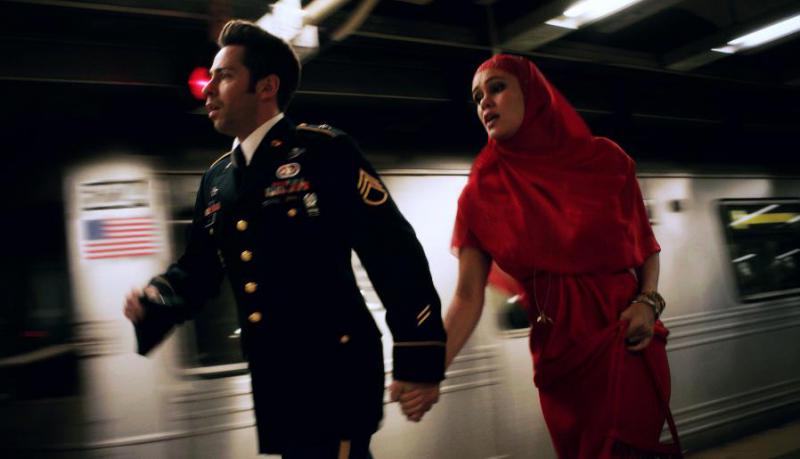 Romantic comedies are not exactly known for being rooted in realism. Movies in this genre always include an element of fantasy, whether it is minor or major, to make viewers wonder if it could ever happen to them. There are elements to Amira & Sam that feel surprisingly authentic and even when it begins to feel a little contrived, I do think its heart is in the right place.
Martin Starr (Freaks and Geeks) is Sam, an army solider who has recently returned home and is struggling to reassimilate. He returns to civilian life by working security as a doorman for a highrise apartment building. One night, he makes the mistake of chastizing an elevator full of privileged assholes after seeing one of them urinate outside the front door. They mockingly call him a "redneck cop" and dare him to do something about it. Sam lets the elevator doors close, but quickly shuts down the elevator banks, trapping them while he grabs a mop to clean up the mess.
It's a short-lived return to the "real world" as he's quickly relieved of his duties and left to fend for himself again. His life is relatively streamlined, crammed into an efficiency apartment in Staten Island where his bed plays double duty as a couch. He spends his spare time jotting down jokes in a small journal so he can attempt to do open mic night as a stand-up comedian.
When Sam is reunited with his friend Bassam, an Iraqi translator he knew while on duty, he also is introduced to Bassam's fiery niece Amira (a fantastic performance from newcomer Dina Shihabi). Of course they hate each other inititally, or I suppose it is more accurate to say that she hates him, but they get thrown together when Amira is arrested on the street selling bootleg DVDs and she runs away from the poilice. Bassam asks Sam to help keep her safe and they're forced into close proximity in his tiny apartment for several days, where they have the opportunity to get to know each other better.
The writing is on the wall as to where this goes next, but writer-director Sean Mullin (himself an Army vet who has dabbled in stand-up) still adds a few surprises and both of the lead performances are solid enough that I could recommend it as a viewing for anybody who is looking for something on the lighter side. Yet, the film tackles the issue of a soldier returning home only to find that things aren't quite as he remembered them, and a particularly interesting subplot focuses on Sam's cousin, who exploits his military service as a way to con rich veterans into investing in his hedge fund.
I suspect some viewers will be troubled by the notion of a hijab-wearing (although not otherwise particularly religious) Muslim woman being "rescued" by a white man, but to me the movie is simply telling the story of one starcrossed interfaith couple. I don't think it purports to be anything more and it's refreshing to see a love story depicted onscreen that doesn't look like every other movie. It may try a little too hard to tie things up in a ribbon of unadulterated happiness at the end, but the overall film is charming enough to cut it some slack.
Over this opening weekend of the movie, all active duty and veteran military service members can present a valid Military ID at the box office to buy one ticket, get one free for "military date night." Also, Martin Starr will be in attendance for Q&As at Alamo Drafthouse South Lamar following the Saturday 7 and 10:10 pm showtimes and Sunday's 4:25, 7 and 10:10 pm showtimes. The film is also available as of today on cable and digital VOD.