Review: Still Alice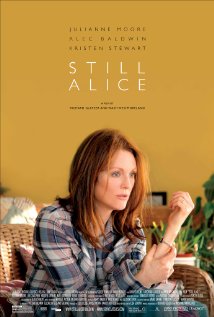 It's hard to begin to review a film like Still Alice. I was warned that this movie might be considered a modern horror film, as it depicts the life of one woman with early-onset Alzheimer's disease. Although the film doesn't shed any positive light on getting older, it does take a deeper look at the importance of memory and family.
Alice (Julianne Moore) has just celebrated her 50th birthday surrounded by a loving husband (Alec Baldwin) and three grown children. She thrives on both her family and teaching at Columbia University, reknowned for her work in linguistics and communication. Life seems on track until she begins to forget words and people's names rather suddenly. A trip to the doctor reveals a rare form of familial Alzheimer's Disease and a life of slow but sure decay for Alice.
Still Alice is painful to watch; not because the film is poorly done, but because it's so truthful all the way through. Alice's decline in memory and basic functioning evokes a real fear in its audience, especially when you realize it's capable of happening to you or someone you know. Perhaps the saddest truth is watching Alice's frustration at her everyday loss, little by little. Her character is most relatable in the way that she tries so hard to cling to her memories, as many of us often do as we age.
No other actor could have played this role like Moore. Others could have portrayed it, but Moore brings a depth to Alice that is both hopeful and heartbreaking. A pleasant surprise is the complex relationship Alice has with her youngest daughter Lydia, played by Kristen Stewart. The role sheds a new light on Stewart, one of a larger acting scale not previously seen. It's perhaps the first role I've actually enjoyed her in.
The best bit of hope the story provides is learning to live in the moment. In a heartfelt speech midway through the film, Alice explains that although having this disease is a struggle, she must learn to live with her loss. What a difference it makes, she explains, to learn to be present in a single moment. That speech, that thought, echoed in my head long after the credits rolled.
I encourage you to see Still Alice, especially given Moore's recent Academy Award nomination for the role. It might not be at the top of your list, but sometimes the most truthful films are the ones we need to see the most.