Sundance Review: Tangerine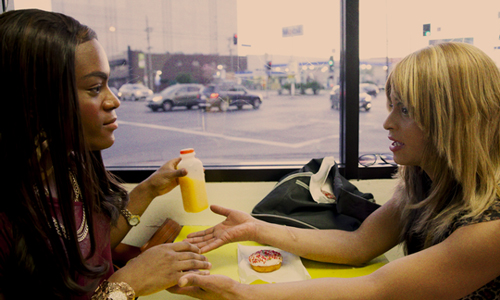 Tangerine captures a seedy side of Los Angles rarely seen on film, in the bowels of a subculture that was not of personal interest until I watched this crudely engaging tale at Sundance Film Festival.
Transgender prostitute Sin-Dee (Kiki Kitana Rodriguez) has just been released from jail on Christmas Eve when her best friend and fellow sex worker Alexandra (Mya Taylor) reveals that Sin-Dee's pimp boyfriend Chester (James Ransone) has been sleeping with a meth addict "fish," Dina (Mickey O'Hagan), during Sin-Dee's incarceration. Sin-Dee strikes out with Alexandra in tow to find both Chester and Dina so she can settle matters.
"There is nothing out here but the hustle," states Alexandra, and that's what the pair do as they embark on a fast-paced journey through the streets of Los Angeles. Their stories are intertwined with that of Armenian cab driver Razmik (Karren Karagulian), who has a weakness for transgender prostitutes, and especially for Sin-Dee. Days spent dealing with difficult customers and nights with his overbearing mother-in-law have Razmik desperate for his own release through carnal pleasure.
Writer and director Sean Baker used mostly first-time actors, which lends a completely naturalistic and authentic tone. Remarkably, Tangerine was shot using just three iPhone 5s phones, yet employs highly stylized shooting and editing techniques that give an often voyeuristic quality to the story.
Because cell phones were used, filming permits weren't required -- however, I learned from someone connected to the film project that permits were secured, due to the need for an ADR recordist to complete the required audio syncing. The soundtrack is right in tune with the action on the screen and bolsters the movement by its main characters.
Tangerine demonstrates both humor and heart with its cast of characters. The story unfolds to reveal that although Sin-Dee may not have a heart of gold, her motivations are driven by something more personal. The refreshing climax does not tie up all the loose ends and rather leaves some of the subplots to the viewer's imagination.
Without spoiling the surprise, we learn that Sin-Dee and Alex are both capable of a wealth of emotions brought on by both betrayal and loyalty. The bond between these friends is such that it can be tested and endure, and Rodriguez and Taylor are well matched for these roles. I hope to see them both in future roles that demonstrate their emotional depth and natural talents.
Texas connections: Co-star Taylor resides in Houston, and former Austinites Jay and Mark Duplass co-produced the film.