Lost in the Awards Rush: Nine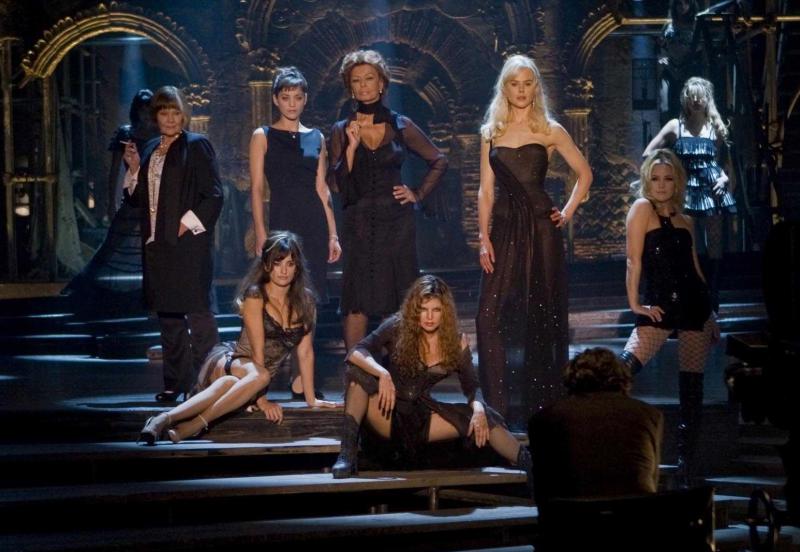 "Lost in the Awards Rush" is a new weekly series Slackerwood is running during the awards season, to suggest lesser-known but excellent alternatives to popular frontrunners for big movie awards.
Upon its Broadway debut in 1987, Into the Woods was praised as an innovative, dark, bold and musically astounding work that, to this day, remains unequaled. Naturally, a movie version had to follow of this re-imagining of classic fairy tales and what happens after "happily ever after." Though there were plans for a Rob Reiner-directed movie adaptation featuring Cher, Goldie Hawn, Elijah Wood and Robin Williams in the early '90s, that sadly fell apart -- the notion of bringing a project so well regarded and towering in both story and scope seemed virtually impossible.
Enter Rob Marshall, who successfully brought Chicago (2002) (another seemingly un-adaptable Broadway sensation) to the screen and had set out to work similar wonders with what was possibly the most daunting project of his career. Though there were some gripes by theater purists concerning changes that made the story more Disney-esque, Into the Woods proved a smash hit with critics and audiences, while earning Oscar nominations for the film's costumes, production design and supporting actress Meryl Streep.
The film added much-needed luster to Marshall's movie musical resume when recalling his lavishly mounted yet unfairly dismissed adaptation of the Broadway musical Nine (2009). Nine follows celebrated Italian film director Guido Contini (Daniel Day-Lewis) as he prepares to shoot his eagerly awaited ninth film. However, Guido finds himself in a creative and personal crisis, which prevents him from creating the grandiose masterpiece everyone is expecting. At the heart of Guido's turmoil are the frustrating relationships he has with various women in his life including his wife (Marion Cotillard), mistress (Penelope Cruz), mother (Sophia Loren), muse (Nicole Kidman), costume designer (Judi Dench), an American journalist (Kate Hudson) and a scandalous woman from his childhood (Fergie).
Nine is essentially a musical re-working of famed Italian director Federico Fellini's film 8 1/2 (1963), which illustrated his own struggles to balance his personal life in the midst of a professional crisis. It is a brilliant work that is considered one of the director's best. While the movie Nine doesn't probe into psychology the way Fellini did with his film, it instead conveys a certain type of beautiful affection and understanding for perhaps one of most simultaneously revered and loathed figures in the film world. As played by Day-Lewis (unsurprisingly amazing), Guido is a man silently drowning in an ocean of admiration and doubt where the blending of life and the movies are keeping him from holding onto the true artist he once was.
The story includes keen statements about the ridiculousness of how movies are hurriedly planned including a poster, costumes and the massive set (where all of Nine's stunning musical numbers take place), all of which have been constructed despite the fact that Guido's film doesn't even have a script yet. More than that however, Nine is also about the women in Guido's life and how each plays a part in his journey of discovering the man he is meant to be. Each actress performs well in her respective role, yet the two standouts are Cotillard as Guido's long-suffering yet perceptive wife Luisa, and Cruz (in one of her best roles) as Carla, Guido's conflicted, lovesick mistress. Both women create characters infused with so much life and passion that we cannot help but understand some of Guido's torment.
Nine earned four Oscar nominations upon release (including one for Best Supporting Actress for Cruz and another for Best Original Song for Hudson's frisky number "Cinema Italiano"). Incidentally the music, while not instantly recognizable, is first rate with "Be Italian" as the film's hands-down showstopper.
Despite this, Nine became one of the costliest and high-profile failures of 2009 due to a subject matter considered too alienating for mainstream audiences and too glamorous for film scholars. Yet in the eyes of a select few, Marshall did indeed triumph with Nine as a lush, cinematic feast for the eyes, a love letter to Fellini and a tip of the hat to the eternally driven yet often conflicted artist.