Slamdance Review: Bloodsucking Bastards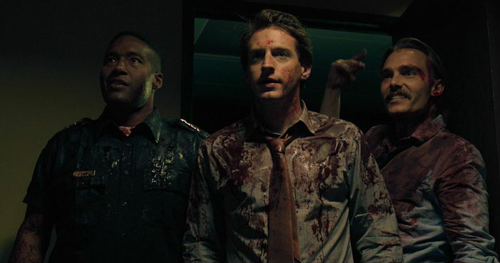 The 2015 Slamdance Festival opened on Friday night with a splash -- or rather copious amounts of blood -- in Bloodsucking Bastards, a horror comedy directed by Brian James O'Connell and penned by Ryan Mitts and the Dr. God comedy group. The well-attended opening-night party included the cast and crew in attendance, and plenty of complimentary libations for attendees.
Not since the Spierig brothers' 2009 vampire horror movie Daybreakers have I witnessed such a deluge of fake blood, but the action and humor keep the gag reflex at bay in this film that has been aptly described as "Office Space meets Shaun of the Dead," but with vampires instead of zombies.
Fran Kranz stars in Bloodsucking Bastards as Evan, the acting sales manager in a regional office of a big corporation. He is frustrated with his current work situation with his co-worker and ex-girlfriend Amanda (Emma Fitzpatrick), as well as his slacker buddy Tim (Joey Kern) and the rest of the underperforming sales team. When his boss (Joel Murray) brings in his old nemesis Max (Pedro Pascal) to take on the sales manager position, officemates begin acting strangely and some even go missing. It's up to Evan to convince everyone that an evil force is taking over the office and more than just their jobs are at stake.
As a longtime fan of Kranz from his complex characterization of Topher Brink in Dollhouse, I can't imagine anyone better suited for the role of Evan. While his core talent of exuding neurotic tendencies is instrumental for his character, it's his ability to expand beyond that stereotype to the role of a lovelorn suitor or reluctant hero -- also exemplified by his performance as Marty in The Cabin in the Woods.
Kern as Evan's best friend Tim channels a bit of McConaughey's Wooderson from Dazed and Confused in both his "bad boy" good looks and slacker mentality. Marshall Givens as security guard Frank serves up deadpan comedic expressions that are priceless.
The cinematography and editing of Bloodsucking Bastards delivers, whether it's fast-paced action, flashbacks by various characters, or hysterical mise en scene moments in the elevator. The comedic writing is well timed as well as memorable -- "Don't get all Princess Leia on me" will be etched in my brain whenever I think of this over-the-top campy horror comedy that should not be missed.