TAMI Flashback: Hondo Crouch and Luckenbach, Texas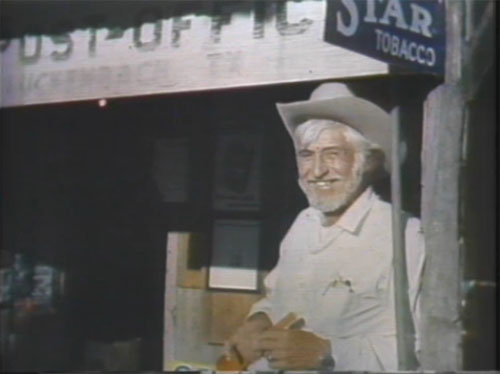 This article is part of a series about the Texas Archive of the Moving Image (TAMI) video library. For an overview of the TAMI site, refer to this article.
The Texas Hill Country town of Luckenbach may be little more than a few buildings, including a general store and a dance hall. But few places are more symbolic of mythic Texas than this honky-tonk mecca, party venue and tourist destination a few miles south of Fredericksburg.
Luckenbach owes much of its fame to Waylon Jennings and Willie Nelson, of course; their 1977 hit "Luckenbach, Texas (Back to the Basics of Love)" introduced the tiny town to a vast audience and made it an essential part of Texas pop culture. But modern Luckenbach might not exist at all if not for another legendary Texan -- Hondo Crouch.
A satirist, writer, rancher, musician, artist, swimming coach and self described "imagineer," Crouch bought the nearly deserted Luckenbach in 1970. He proclaimed himself mayor (the three residents apparently didn't object) and pursued his grand vision for the place. Along with partners Kathy Morgan and actor Guich Koock, he quickly transformed Luckenbach into a popular hangout and venue for all manner of quirky events: no-talent contests, hug-ins, a mud dauber festival, a women-only chili cookoff and the Luckenbach World's Fair. Crouch also turned Luckenbach into a storied music venue; the town's association with country music was cemented in 1973, when Jerry Jeff Walker and the Lost Gonzo Band recorded their classic live album Viva Terlingua in the Luckenbach Dance Hall.
This month's TAMI Flashback videos are as quirky as the town and the man they celebrate. The first video is John Russell "Hondo" Crouch, in which Wally Pryor (known as the "Voice of the Longhorns" for his career as a University of Texas football announcer) interviews Koock and Crouch's daughter, Becky Crouch Patterson.
Filmed in Luckenbach in 1979 to promote Crouch Patterson's memoir, Hondo, My Father, the interview includes fascinating insights into Crouch's life. His daughter is candid, calling him "a frustrating father at times," but fondly recalls him as a magical man who "celebrated life with just everyday, little ordinary things." Koock describes Crouch as having a lot of tragedy in his life, but says "no one ever saw that, because he was just always the classic laughing clown."
Aside from the fabulous interview, John Russell "Hondo" Crouch has some great photos of Crouch and video of Luckenbach in its outlaw country days. The video is required viewing (and Hondo, My Father is required reading) for Crouch fans.
[View original at Texas Archive of the Moving Image.]
Another compelling video is 1977 Luckenbach World's Fair (also featuring Pryor and Koock), which captures the event in all its oddball glory. There is an armadillo race (but you knew that) and a boxing match, along with an Evel Knievel-wannabe who jumps his motorcycle over a few cars in front of a sparse crowd. Pryor and Koock have a detailed discussion of chicken-flying races; teams came from as far as California, Ohio and Georgia (or so says Koock).
As fascinating as the chicken-flying racing is, the video's highlights are two great performances by blues singer and pianist Marcia Ball, including a duet with Austin country musician Alvin Crow. There is also a surprising performance of "Squeeze a Fruit for Anita," a snarky song by two unidentified women who gleefully bash everyone's favorite orange-juice hawking homophobe, Anita Bryant. (An Internet search revealed several copies of the video, but not the singers' names. Which is unfortunate; they're quite funny and talented.)