Slamdance Review: Clinger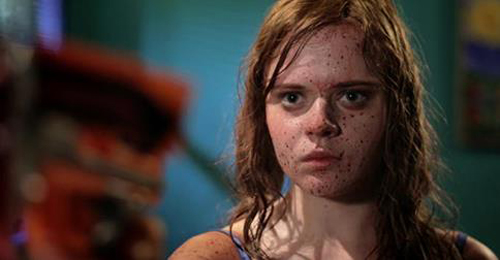 Houston-shot comedic horror film Clinger premiered at the Slamdance Film Festival with full houses for both screenings. This quirky feature directed by Michael Steves (Hello, Cruel World) and co-written by Gabi Chennisi (Dark Water), Bubba Fish, and Steves is entertaining horror that turns the rom-com genre on its head, both literally and figuratively.
Jennifer Laporte stars as Fern Peterson, a high-school girl who aspires to receive an athletic scholarship to MIT. She experiences her first love with classmate Robert Klingher (Vincent Martella), who overwhelms Fern with adoration and gifts. Just as Fern admits to Robert that they should end their relationship, Robert dies in a freak accident and returns from the dead as a love-sick ghost. With the aid of her track coach and semi-retired ghost hunter Valeria Kingsley (Alicia Monet Caldwell), Fern must overcome Robert's attempts to ensure their everlasting love.
Clinger is a refreshing departure from a typical high-school romantic comedy, with strong characterization of lead and supporting actresses. While Fern clearly appreciates the affection from Robert, there's a reluctance that can be seen in her expressions -- especially in a photo where Robert grasps her in an overly affectionate stranglehold. Laporte is phenomenal in her role of a young woman conflicted by her emotional attachment to her first love and its impact on her chosen path in life.
It was wise of the writing team to feature supporting actress Caldwell prominently in several scenes because otherwise she'd be stealing the scenes anyway. Brilliantly funny, Caldwell shines as a comedic actress -- whether from the cockatoo-like tilt of her head to her tightly wound walk, to yelling "I will shit on you" at her girls track team -- she pushes the audience past their comfort zone into an embrace of her engaging crassness. The well-placed animation that supports Valeria's description of ghost hunting as well as her backstory are so delightful that I would love to have seen more.
Julie Aks as Fern's sister Kelsey is also delightful in her supporting role. Often dry and matter-of-fact, Aks comedic style is much more understated as it hits the mark. As the family underachiever and well-meaning yet often misguided sister, Aks delivers some of the best lines, including "I'm on my vacation, it's one of the perks of being unemployed -- self-employed." Her entrepreneurial ideas center around sock puppets and are not to be missed.
Martella embraces his role as Robert wholeheartedly, as he finely balances between obsessive love, heartbreak and pathos -- not the easiest task when your character dies in the first ten minutes of the film.
Overall, I thoroughly enjoyed the writing and direction of Clinger with well-timed dialogue and special effects. Double entendres lines that would come across as quite lewd from a male character are purely hysterical when delivered via Fern's best friend, wide-eyed innocent Moe Watkins (Shonna Major).
While some of the visual effects of other graveyard characters and scenes are not quite convincing, they contribute to the overall campiness reminiscent of Gremlins and Re-Animator. A scene involving stuffed toys proclaiming over and over, "I love you very much" will haunt me in my dreams for a long time, but not nearly as much as the earworm "Fern's Song." Valeria's possession while seeking out the "love ghost" brings to mind Beetlejuice and Ghostbusters.
Whereas Clinger eludes to a dark subtext of the very real issues in today's society of stalking and domestic violence amongst high school, both the creative team and cast keep the tone as light as they can for a comedic horror while sending an important message stated often by Steves in interviews -- "Loving someone persistently doesn't mean that you deserve their affection or that they owe you their love."
Clinger is a must-see film for horror fans of all ages, but is especially fitting for teens and anyone who could use a good laugh over the horror of first love.
Texas Connections: Clinger was filmed in Houston, Texas, at St. John's School and in the Memorial area. Steves, Chennisi, and Fish are graduates of St. John's and Houstonian Laporte graduated from Episcopal High School.