Sounds Like Film: The Cinematic Legacy of KVRX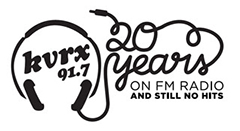 Last month, current and alumni volunteer staff of 91.7 KVRX, the University of Texas at Austin's student-run radio station, gathered for a reunion to celebrate 20 years the station began broadcasting on the FM dial. Part of Texas Student Media, KVRX streams online 24/7 and is on the air from 7 pm-9 am weekdays and 10 pm-9 am on weekends, sharing the frequency with KOOP community radio.
Over the years, KVRX has provided opportunities for students to receive practical experience in radio news, sports and entertainment programming and in broadcast management, and served as a source of campus information for students, faculty and staff as well as an outlet for alternative programming unavailable in the Austin market. Any UT student can volunteer at the station.
Quite a few KVRX alumni have gone on to careers in television and film industry. The reunion provided the perfect opportunity for me to chat with them about how their student-radio experiences impacted their careers.
Former KVRX disc jockey (1994-1997) and station manager Jett Garrison (seen above), formerly known as Jenn Garrison, has directed shorts and features that have played in over 100 film festivals worldwide, receiving global distribution and awards. The 2002 documentary PrizeWhores premiered at SXSW and was broadcast on local PBS affiliate KLRU-TV. Over the years, Garrison's films have earned a student Academy Award nomination and awards from the Television Academy Foundation, the Bologna International Women's Film Festival, the Night Gallery Film Festival and PlanetOUT.com.
After moving to Los Angeles in 2008, Garrison used her filmmaking talents in marketing, promotion and advertising. She's worked with OWN (The Oprah Winfrey Network), NBC Universal and Sony Pictures Television, where she was selected to participate in Sony's Diverse Directors Program. She's currently the creative director at SixTwo Creative.
Garrison is currently planning to turn her 2006 short Jo FM into a feature-length movie. Watch the trailer for the 2006 short below:
I emailed Garrison to ask her about the skills and experience she gained at KVRX that helped her film-related career, and here's her response:
"At KVRX as station manager, I learned how to lead a very large team. Motivating such a diverse group of people towards one common goal was a great challenge. I learnt how to rely and trust on others to accomplish a large goal. This is very important in any creative/collaborative endeavor! I also learned about multitasking, another very important skill to have in the film/TV industry.
"Most of my early films were made in Austin, Texas and I was lucky enough to work with many of the same crew over and over. My radio career at KVRX led to a broadcast DJ career at 101X and KGSR in Austin. it's those careers that pushed me to go back to school to obtain my MA and MFA in filmmaking and my very first film, the feature documentary PrizeWhores, was actually about a subculture within radio. My beginnings in radio truly did shape my career today."
Speaking of prize whores, UT Austin RTF graduate Brian Ledden served as the giveaways director for KVRX, and from 2003-2009 also hosted music programs and a long-running talk show about Star Wars. He helped found Local Live TV with Phil Goetz and was also the Club Night director.
Ledden is currently a freelance media producer, making a living from his video and photography skills. Between Local Live and his participation in radio, he felt compelled to switch his major over to radio-television-film.
"I've worked on a number of small projects, and even got into photographing weddings for awhile," he told me. "Most notably, I was a cinematic designer for Star Wars: The Old Republic, which means I made virtual film (machinima) for a Star Wars MMORPG."
His fellow volunteer DJ and Local Live TV founder Phillip Goetz was the first video director for KVRX. Goetz now works for Omega Broadcast Group in film and video equipment sales and marketing. Goetz's experience in securing sponsors for Local Live TV has helped him with other projects -- most recently in finding sponsors for the upcoming documentary Pedal South.
"KVRX helped me find my voice and to do tons of different things with tons of different types of people," he told me. Goetz has mainly worked on community-based projects, and has supported commercial and reality productions through equipment supply. He helped with the following music video for local country artist Leland Williams:
UT Austin RTF graduate and former KVRX station manager Robert Zimmer is a writer, producer and director based in Austin and Los Angeles. As principal owner of Deeper Magic Communications, he's also a media consultant and a partner in several multimedia ventures.
Zimmer began his career as a creative executive for producer Aaron Spelling, working on The Usual Suspects, Beverly Hills 90210, Melrose Place and 7th Heaven. He's been a staff television writer for Star Trek: Voyager, Sunset Beach (which got him a Writers Guild Award nomination) and Port Charles. Feature films Zimmer's produced include Half-Life, which screened at SXSW, Sundance and other fests, and Thank You, Good Night, which he also cowrote.
Zimmer's newest feature film project is set in Austin, and his dream is to shoot it in Austin with a local crew.
When asked how KVRX benefited his career, Zimmer said his time at KVRX influenced him "to give a shit about the world around me. Courage to lead a large group of people in ambitious, risky ventures that make a cultural impact." He also took away from his experience "the ability to inspire, grace under pressure, and how to collaborate with other creative people."
Watch the trailer for the short film Half-Life below:
Other notable KVRX alumni in film: Director Brad Montesi's 2011 short film Recess was picked up at Cannes Film Festival, and is distributed by Shorts International. Montesi's also worked with Troublemaker Studios as a visual effects assistant on Machete Kills and in production support for Sin City: A Dame to Kill For. Montesi stays busy with ad campaigns and music videos for local clients.
Robert Brakey has worked as an editor in Hollywood for a number of years, having started out in 1993 as an apprentice editor on Richard Linklater's Dazed and Confused. Former KVRX deejay and business manager (1989-1992) Tony Zavaleta shot his 2013 independent feature The Bystander Theory in Austin and Lockhart.
Watch the trailer for The Bystander Theory below:
My time at KVRX influenced me tremendously -- not only for the experience in coordinating 200+ volunteers, but also the operations and management. The students who are currently programming and managing KVRX are carrying on our legacy through their creativity and passion for what many would argue is the best remaining student-run station in North America.
You can support 91.7 KVRX by donating to their fund drive -- over $20,000 was raised in the last two months to cover the cost of a new transmitter, but the station can always use more financial support. And tune in to 91.7 KVRX from 7-10 pm on Thursday, January 8, for a blast from the past with yours truly.
If we missed any other KVRX alumni who have gone on to work in the film or TV industry, let us know in the comments.